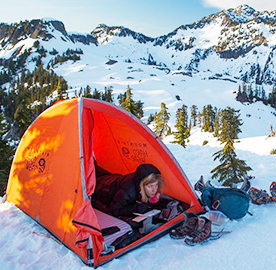 Nikki Frumkin is a Swiss-American alpinist and artist living in Seattle, Washington. Her art is inspired by time spent hiking, climbing and mountaineering in the beautiful Pacific Northwest. You can often find her in the mountains with her sketchbook and watercolors in hand. Sometimes she straps huge sheets of paper to the outside of her pack and other times she just sticks a pen and scrap of paper in her pocket.
Nikki tries to capture energy, light, weather and movement in her paintings. Her work combines pattern, vibrant color, and energetic lines to build a sense of place. Nikki Frumkin's paintings have been exhibited in shows across the country. She also does art and design work within the climbing and outdoor industry.
Check out Niki's watercolor mountain prints and merchandise on her Drawn to High Places website and popular Instagram account.