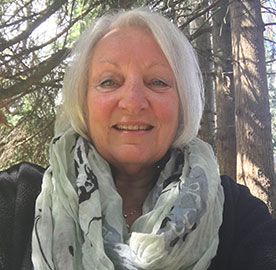 Michele Cooper has been teaching watercolor for over 25 years in the Pacific Northwest. Her diversity of work includes marine subjects, still life, figures and landscape. She has been making art and learning to see with an artist's eye all her life. "Sargent, Homer, Renoir and most of the Impressionists are my chosen mentors," she explains. "I am awed by their vision and work to reach even an approximation of their ability."
Michelle's work is featured in "The Ultimate Guide to Painting from Photographs" and Gary Greene's "Artists' Photo Reference: Buildings and Barns" and her workshops have been sponsored by The Pacific NW Art School, La Conner Art Workshops, Kirkland Arts Center, the NW Studio and many art groups and societies.
Michele Cooper is a signature member of the Northwest Watercolor Society, Women Painters of Washington and National Collage Society. Her work is in collections throughout the United States, Canada, Japan and Europe.