Youth Programs and Scholarships
Through the generous support of donors like you, we are able to provide transformative educational experiences in nature for all. Thank you for inspiring and empowering environmental stewardship by supporting scholarships today!
Want to apply for Scholarships? Find out more under the program area you're interested in: Adult and Family Programs; Youth Leadership Adventures
---
School Programs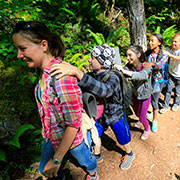 Mountain School is our 30 year-old residential education program at the Environmental Learning Center in the heart of North Cascades National Park. Over 3 days, students spend 60 hours learning about ecological communities with their classmates, teachers, and parent chaperones. Hands-on, interdisciplinary experiences connect students to the natural and cultural history of our watershed. For most, this is the first time they visit a national park, spend a night away from home, and discover the connections between their lives, communities, and the environment. To reduce barriers, we prioritize participation of full school districts and subsidize fees on a sliding-scale, based on Free & Reduced Lunch percentages. We provide participants with clothing and nutritious, locally sourced meals.We also provide clothing and nutritious locally-sourced meals. Over 2,500 students participate each year with 96% of schools receiving financial aid.

Deep in the forested embrace of the upper Skagit River Valley, you can find the next two generations of Americans getting to know a national park. I heard hooting like owls and howling like wolves, coming from a circle of fifth graders and their wilderness instructors."
— Timothy Egan, National Geographic
Snow School is a day-long outdoor winter learning adventure combining applied science education with snowshoe-powered exploration at the Mt. Baker Ski Area. Middle and high school students and their teachers engage in research and hands-on learning around the themes of weather, watersheds and climate. Our priority audience is rural and underserved communities surrounding Mt. Baker-Snoqualmie National Forest. Schools pay just $10 per student. Philanthropic support enabled the Institute to subsidize fees by $39,000 last year! 
By measuring snowpack density, students now understand why avalanches occur. They also see more clearly how snow influences our quality of life in Bellingham through the watershed that makes its way down the Nooksack River and out to the bay; and ultimately it teaches how everything is connected and why we need to protect our local environment."
— Kulshan Middle School Counselor
Forest School was designed in 2018 with Bellingham Public Schools to renew the 50-year legacy of environmental educational programming at the Gordon Carter Conservation Site. Around age 8, young people undergo a spurt in language and social development and often struggle staying focused. For this reason, it is a particularly crucial time to take learning outdoors. Forest School taps into young people's natural inclination toward curiosity and play. During the field trip, 3rd graders pretend to be a jeweled beetle, a pileated woodpecker, or a flying squirrel and learn about their species' interdependence on other plants and animals within the larger habitat. Last year over 800 third graders from 15 schools participated and because of donors like you, we can offer these programs to schools at a fraction of their cost. 
My kids benefitted from Forest School in many ways. Some kids who are very quiet and calm in the classroom were busy and talkative in the forest. Kids who are clean and put together at school were excited to get dirty! I also noticed different teams working together."
— Teacher after Forest School
Give to support School Programs. 
Youth Leadership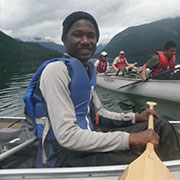 Youth Leadership Adventures offers local teens 12-day backcountry trips in the North Cascades National Park, Okanogan-Wenatchee National Forest, and Mt. Baker-Snoqualmie National Forest. Through immersion in an alpine environment shaped by glaciers, these trips inspire our participants to manifest a hopeful, joyful, and sustainable future for the North Cascades ecosystem and the people who are part of it. Through support from individual donors, the National Park Service, and grants, YLA was able to offer over $50,000 in scholarships in 2019. YLA encourages young people to be stewards of protected lands and gives them the skills and confidence to continue to recreate outdoors for years to come. 
Before this trip I was a shy girl from a small town. Now I know that I shouldn't be afraid to use my voice. I should act on issues that matter to me, like climate change."
— Youth Leadership Adventures Student
These students come from diverse backgrounds. Some are first generation immigrants; some have grown up in rural gateway communities; many could not participate in this program without a scholarship. A gift of $1,500 can provide a named scholarship for a Youth Leadership Adventures Student, while a gift of $2,500 supports a summer intern.
Give a Youth Leadership Adventures Scholarship. 
Endowed Scholarship Funds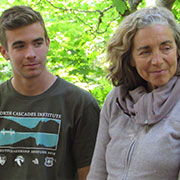 Ensure that your scholarship gift lives in perpetuity. An endowment fund creates a legacy that speaks to an individual's life, values, and commitments while making a difference in the lives of these students. A minimum gift of $25,000 (which may be pledged over 2-3 years) will establish an endowed scholarship. An endowed fund can be created through a bequest, charitable remainder trust, existing life insurance policy, or by endowing a fund today. We will work closely with you to formalize an endowment agreement that reflects your giving intentions, and honors your intent in perpetuity. Each year scholarships will be awarded from the earnings on the fund based on board approved spending policies (typically a 4% distribution is calculated). Contact us about starting an endowment.