Nature of Writing Speaker Series | Fall 2021
Presented by Village Books and North Cascades Institute
Find your next book for the cozy fall nights ahead in this series of presentations of authors and artists sharing their new works. Some events are in-person at Village Books and others are online; registration is required for all events. For in-store readings, you can purchase the featured title at registration which includes entrance to the event, or purchase a $5 ticket and receive a voucher that can be used at the event.
Saving Us: A Climate Scientist's Case for Hope and Healing in a Divided World with Dr. Katharine Hayhoe 
▸ ONLINE: Thursday, September 30 at 6 pm
In Saving Us, Hayhoe demonstrates that whether you're a parent or a person of faith, a beach-goer or a dedicated foodie, climate change affects someone or something you already care about. While others offer doomsday scenarios and point fingers of blame, Hayhoe approaches this topic with optimism and inclusivity. She argues that climate action isn't about being a certain type of person or voting a certain way. It's about connecting the values we already have, to act for our future.
A leading expert on the science, impacts, and communication of climate change, Hayhoe has been profiled in The New York Times, the Washington Post, People, and Rolling Stone, and her TED Talk titled "The most important thing you can do to fight climate change: talk about it" has been viewed almost 4 million times. She gives nearly a hundred talks a year to audiences ranging from corporate symposiums, top-tier universities, and global climate summits to local churches, schools, and city council meetings. Saving Us is the result of thousands of conversations she's had with people from all walks of life, from the oil and gas tycoon who insists "we're not the bad guys" to the college instructor angry that "the EPA is just making all of this up to take away my wood-burning stove" to the NASA scientist frustrated that "my friends don't see it like I do." Drawing equally from interdisciplinary research and personal stories, Hayhoe shows how small conversations can have astonishing results. Saving Us shows readers how each of us has a role to play in changing the world.
Katharine Hayhoe is a climate scientist and chief scientist for The Nature Conservancy. She is also the Endowed Professor in Public Policy and Public Law and Paul W. Horn Distinguished Professor at Texas Tech University. She has been named a United Nations Champion of the Earth and one of Time's 100 Most Influential People, and serves as the climate ambassador for the World Evangelical Alliance. Katharine was a lead author for the U.S. Second, Third, and Fourth National Climate Assessments, hosts the PBS digital series Global Weirding, and has written for The New York Times. She has a BSc in physics and astronomy from the University of Toronto and an MS and a PhD in atmospheric science from the University of Illinois at Urbana-Champaign.


The Madrona Project with Holly Hughes and Rena Priest
▸ ONLINE: Friday, October 15 at 7 pm 

CLICK TO REGISTER
In "Keep a Green Bough: Voices from the Heart of Cascadia"  (Volume #2, Issue #1 in The Madrona Project Series), editor Holly J. Hughes invited 64 women writers and artists from the Northwest to reflect on what it means to live and write in the Cascadian bioregion at the end of 2020, a year that challenged our resilience on every level. Reaching out to national and regionally acclaimed poets and essayists from Alaska to Oregon, as well as new and emerging writers, she brings together a diverse chorus, including Indigenous voices and some who work the land or sea. The voices gathered here remind us that our lives in Cascadia are still interwoven with fir and cedar, salmon and kingfisher, heron and eagle, raven and crow–perhaps even more so as we face an uncertain future together, turning to the natural world for signs of resilience and hope. Throughout this powerful collection, writers and artists bear witness to the hard truths not only of our history but of ongoing inequities laid bare by the pandemic and the consequences of centuries of colonialism and exploitation, inviting us to consider the urgent question of our time: how to move forward into a future that's socially just and sustainable, that honors all our voices and stories. With a moving preface by Washington State Poet Laureate Rena Priest of the Lummi Nation, this collection affirms the beauty, strength, and resilience of Cascadia and her people, and how our fates have always been deeply intertwined and interdependent, now more so than ever.
Rena Priest is a poet and an enrolled member of the Lhaq'temish (Lummi) Nation. She has been appointed to serve as Washington State Poet Laureate for the term of April 2021–2023. Her debut collection, Patriarchy Blues was published by Moon Path Press and received an American Book Award. Her second collection, Sublime Subliminal is available from Floating Bridge Press. She holds an MFA from Sarah Lawrence College. 
Holly J. Hughes is the author of Hold Fast and Sailing by Ravens, co-author of The Pen and The Bell: Mindful Writing in a Busy World, and editor of Beyond Forgetting: Poetry and Prose about Alzheimer's Disease. Her fine art chapbook Passings received an American Book Award in 2017. She lives on the Olympic peninsula, where she leads writing and mindfulness workshops in Alaska and the Northwest and consults as a writing coach.


Mount Rainier National Park: An Artist's Tour with Molly Hashimoto
▸ Sunday, October 17 at 4 pm at Village Books Readings Gallery

CLICK TO REGISTER
Follow along with award-winning artist Molly Hashimoto as she takes you on a journey through the exquisite beauty of Mount Rainier National Park. Blending her closely observed watercolor paintings and sketches with evocative anecdotes, natural history, and park history, Molly creates a vivid scrapbook of all the park has to offer. From old-growth trees to cascading waterfalls, from delicate butterflies to inquisitive marmots, and from the tiniest of wildflowers to the mammoth glacier-covered mountain itself, the park comes to life in this rich collection.
Molly Hashimoto explores parks and wildlife refuges all over the West, seeking inspiration for her sketches, paintings, and prints. Her work appears on calendars and cards, and she is the author and artist of Colors of the West and Birds of the West.
Hurricane Lizards and Plastic Squid: The Fraught and Fascinating Biology of Climate Change with Thor Hanson
▸ Thursday, October 21, 7 pm (doors 6:30pm) at the Firehouse Performing Arts Center

CLICK TO REGISTER
Join us at the Firehouse as we welcome Thor Hanson BACK to the Chuckanut Radio Hour! Thor will be interviewed by Christian Martin of the North Cascades Institute.

In  Hurricane Lizards and Plastic Squid, biologist Thor Hanson tells the remarkable story of how plants and animals are responding to climate change: adjusting, evolving, and sometimes dying out. Anole lizards have grown larger toe pads, to grip more tightly in frequent hurricanes. Warm waters cause the development of Humboldt squid to alter so dramatically that fishermen mistake them for different species. Brown pelicans move north, and long-spined sea urchins south, to find cooler homes. And when coral reefs sicken, they leave no territory worth fighting for, so aggressive butterfly fish transform instantly into pacifists.
A story of hope, resilience, and risk, Hurricane Lizards and Plastic Squid is natural history for readers of Bernd Heinrich, Robin Wall Kimmerer, and David Haskell. It is also a reminder of how unpredictable climate change is as it interacts with the messy lattice of life.
Thor Hanson is a conservation biologist, Guggenheim Fellow, and author of award-winning books including Buzz, Feathers, The Impenetrable Forest, and The Triumph of Seeds. He lives with his wife and son on an island in Washington State.


Full Ecology: Repairing Our Relationship with the Natural World with Mary M. Clare and Gary Ferguson
▸ Wednesday, October 27 at 7 pm at Village Books Readings Gallery
Climate anxiety is on the rise. In the face of global climate breakdown, it's tempting to feel hopeless and guilt ridden about our impact on the environment or disillusioned about our relationship with the natural world. In Full Ecology, social-cultural psychologist Mary M. Clare and longtime nature writer Gary Ferguson suggest a path forward. Instead of inflaming environmental dread, they teach us to take heart and develop the inner resolve to confront the climate crisis. Breaking with the modern impulse to see humans as separate from nature, Clare and Ferguson encourage us to learn from the "supremely methodical and highly improvisational" natural systems that touch our lives. True change, they argue, begins with understanding ourselves not as isolated individuals, but as being in harmony with our human and nonhuman worlds. From this process of mindfulness and reflection, they offer an alternative strategy for acting in ecologically healthy ways, and for inspiring others to do the same.
Rather than proposing a ten-step plan to save the earth, this book encourages a more elemental rethinking of our connections to nature. Practical and poetic, scientific and spiritual, Full Ecology presents a strong, nourishing foundation for climate action.
Mary M. Clare and Gary Ferguson have each dedicated more than thirty years to exploring the world's social and natural ecologies—Clare as a graduate professor of psychology and education, Ferguson as a nature and conservation-science writer. Their individual work has now come together in Full Ecology, a movement devoted to the idea that we can best serve both the natural and human world by reclaiming our human nature. Clare is a fellow in the American Psychological Association, and with her PhD in psychological and cultural studies she has published more than one hundred scholarly articles and two books. Ferguson is an award-winning and internationally recognized author of twenty-six books, most recently The Carry Home and The Eight Master Lessons of Nature. When not on the road or in the wilderness, the couple live in Bozeman, Montana.
Imaginary Peaks: The Riesenstein Hoax and Other Mountain Dreams with Katie Ives
▸ Thursday, November 11 at 7 pm at Village Books Readings Gallery
An evocative, thoughtful true tale of mountain adventure and mystery, Imaginary Peaks uses an infamous deception about a fake mountain range in British Columbia as a lens to examine our fascination with wild places and the lure of blank spaces on the map.
Katie Ives is editor in chief at Alpinist magazine, and her writing has appeared in numerous publications including The New York Times, Outside, The Rumpus, and Adventure Journal, as well as the anthologies Rock, Paper, Fire: The Best of Mountain and Wilderness Writing and Waymaking: An Anthology of Women's Adventure Writing, Poetry, and Art. In 2016 she received the H. Adams Carter Literary Award from the American Alpine Club. She has participated in the Banff Mountain and Wilderness Writing Program and served as a judge for the Boardman-Tasker Award, and a jury member, panelist, and panel moderator at the Banff Mountain Book Festival. She lives in Cambridge, Vermont. Imaginary Peaks is her first book.
Hiking Washington's History with Judy Bentley and Craig Romano
▸ Saturday, November 13 at 4 pm at Village Books Readings Gallery
For thousands of years people have traveled across Washington's spectacular terrain, establishing footpaths and roads to reach hunting grounds and coal mines high in the mountains, fishing sites and trade emporiums on the rivers, forests of old growth, and homesteads and towns on prairies. These traditional routes have been preserved in national parks, restored by cities and towns, salvaged from old railroad tracks, and opened to hikers by Indigenous communities.
In this new, full-color edition of the first-ever hiking guide to the state's historic trails, historian and hiker Judy Bentley teams up with veteran guidebook author Craig Romano to lead adventurers of all abilities along trails on the coast, over mountains, through national forests, across plateaus, and on the banks of the Columbia River. Features include:
44 hikes, including 12 new additions

Full-color trail maps

A trails timeline that connects hikes to key events
Updated trail descriptions
Accounts from diaries, journals, and archives
Historical overviews of 8 regions of the state
Contemporary and historical photographs
Bentley and Romano offer an essential boots-on-the ground history of some of the state's most fascinating places. Judy Bentley taught Pacific Northwest history at South Seattle College for more than twenty years and is an avid hiker and author of fifteen young adult books. Craig Romano is author or coauthor of more than twenty-five guidebooks, including 100 Classic Hikes: Washington (third edition), and many books in the Day Hiking and Urban Trails series.


The Nature of Writing Speaker Series  | Spring 2021
Earth's Wild Music: Celebrating and Defending the Songs of the Natural World with Kathleen Dean Moore • Tuesday, March 16 at 6 p.m.
Watch >>
Earth's Wild Music is at once joyous and somber, a thoughtful gathering of new and selected essays spanning Kathleen Dean Moore's distinguished career as a tireless advocate for environmental activism in the face of climate change. Music is the shivering urgency and exuberance of life ongoing. In a time of terrible silencing, Moore asks, who will forgive us if we do not save nature's songs? Join us for an online celebration of the singing planet! Alongside Moore, this event will feature guests Hank Lentfer (creator of a library of the natural sounds of Glacier Bay), Mark Hixon (a coral reef ecologist who can imitate songs the fish sing) and Rachelle McCabe (a concert pianist who will play to explain how music enters our hearts). Saul Weisberg, executive director of North Cascades Institute, will moderate a conversation with Moore and our guests will discuss "How do we balance our joy in the world's music with our sorrow at losing the music-makers?"
A Shape in the Dark: Living and Dying with Brown Bears with Bjorn Dihle—plus a conversation on local grizzly bear recovery with Joe Scott from Conservation Northwest
• Saturday, April 3 at 7 p.m.
Watch >>
In A Shape in the Dark, Dihle blends personal experience with historical and contemporary accounts to fully explore the world of brown bears, from frightening attacks to the animal's place in Native cultures to the ways habitat degradation and climate change are threatening the species. A Shape in the Dark is an elegant and lyrical work that thoughtfully weaves outdoor adventure, natural history, and memoir together to present a fresh and vivid portrayal of these fascinating creatures.
BJORN DIHLE is a wilderness and wildlife film guide as well as a contributing editor for Alaska Magazine and Hunt Alaska Magazine, and has been published in Outdoor Life and Sierra, among others. He is the author of two previous books, Haunted Inside Passage: Ghosts, Mysteries, and Legends of Southeast Alaska and Never Cry Halibut: And Other Alaska Hunting and Fishing Tales. He lives on Douglas Island in Southeast Alaska with his family.
JOE SCOTT leads Conservation Northwest's trans-boundary grizzly bear recovery and habitat connectivity efforts in the North Cascades and southwestern BC, working collaboratively with several First Nations, research biologists, governments and other conservation organizations.
Washington Wildflower Hikes: 50 Destinations and Pacific NW Wildflowers
A Pocket Reference with Nathan Barnes
• Tuesday, April 20 at 7 p.m.

From flower-filled alpine meadows to streams lined with delicate Scouler's corydalis blooms, and from lakes covered in water lilies to Dr. Seussian drifts of bear grass, Washington offers something for every hiker—and flower lover. Brothers Nathan and Jeremy Barnes lead hikers on 50 trails to seasonal floral displays, ranging across varied landscapes. Features include:
Basics of wildflower identification
Tips for photographing wildflowers
"Hike Finder," which includes flowering season, trail difficulty, distance, and more
50 detailed wildflower profiles, including common and botanical names, description, botanical background
Stunning images throughout
Along with its showcased species, each handpicked route includes a detailed topo map, turn-by-turn route description, history of the area, and list of other wildflowers found along the trail.

Waymaking by Moonlight: New & Selected Poems with Bill Yake • Thursday, April 22 at 7 p.m.
Watch >>

For years, Bill Yake directed investigations into the toxic contamination of water, fish, and sediment for the Washington State Department of Ecology while writing poetry on the sly. Now his hidden life and perceptions are revealed in several collections of poetry, including This Old Riddle and Unfurl, Kite, and Veer. His new title Waymaking by Moonlight is the definitive collection of fifty years of Bill Yake's observant, thoughtful, lyrical, and startling poems—poems of the natural world and the curious ways of humankind. It is an intimate journal of phenomena, discoveries gathered from the backcountry and from the back shelves of second-hand bookstores, alike. These poems share the essences of rivers, friends, ancient trees, word origins, fungi, mountains, family, field guides, decay, and conversations overheard on rainy cabin porches and around campfires visited, on moonless nights, by impulsive and unfettered winds.
Singer Come from Afar with Kim Stafford
• Tuesday, April 27 at 6 p.m.
Watch >>

The five sections in Kim Stafford's Singer Come from Afar hold poems that summon war and peace, pandemic struggles, Earth imperatives, a seeker's spirit, and forge kinship. The former poet laureate of Oregon, Stafford has shared poems from this book in libraries, prisons, on reservations, with veterans, immigrants, homeless families, legislators, and students in schools. He writes for hidden heroes, resonant places, and for our chance to converge in spite of differences. Poems like "Practicing the Complex Yes" and "The Fact of Forgiveness" engineer tools for connection with the self, the community, and the Earth: "It is a given you have failed ... [but] the world can't keep its treasures from you." For the early months of the pandemic, Stafford wrote and posted a poem for challenge and comfort each day on Instagram and published a series of chapbooks that traveled hand to hand to far places—to Norway, Egypt, and India. He views the writing and sharing of poetry as an essential act of testimony to sustain tikkun olam, the healing of the world. May this book be the hidden spring you seek.
Rooted: Life at the Crossroads of Science, Nature, and Spirit with Lyanda Lynn Haupt
• Thursday, May 6 at 6 p.m.
Watch >>

In Rooted, cutting-edge science supports a truth that poets, artists, mystics, and earth-based cultures across the world have proclaimed over millennia: life on this planet is radically interconnected. Our bodies, thoughts, minds, and spirits are affected by the whole of nature, and they affect this whole in return. In this time of crisis, how can we best live upon our imperiled, beloved earth? Award-winning writer Lyanda Lynn Haupt's highly personal new book is a brilliant invitation to live with the earth in both simple and profound ways—from walking barefoot in the woods and reimagining our relationship with animals and trees, to examining the very language we use to describe and think about nature. She invokes rootedness as a way of being in concert with the wilderness—and wildness—that sustains humans and all of life. Each chapter provides tools for bringing our unique gifts to the fore and transforming our sense of belonging within the magic and wonder of the natural world.
An Evening with Saul Weisberg & Friends
• Thursday, May 13 at 7 p.m.
Watch >>

After 35 years of serving as Executive Director of North Cascades Institute, naturalist, poet and nonprofit leader Saul Weisberg is retiring. Over that time, our conservation organization has grown from an idea that emerged around a campfire between Saul and friends to a nationally-recognized organization that reaches thousands of learners every year. Join us for a fun evening of storytelling and conversation with Weisberg, William Dietrich and John Miles.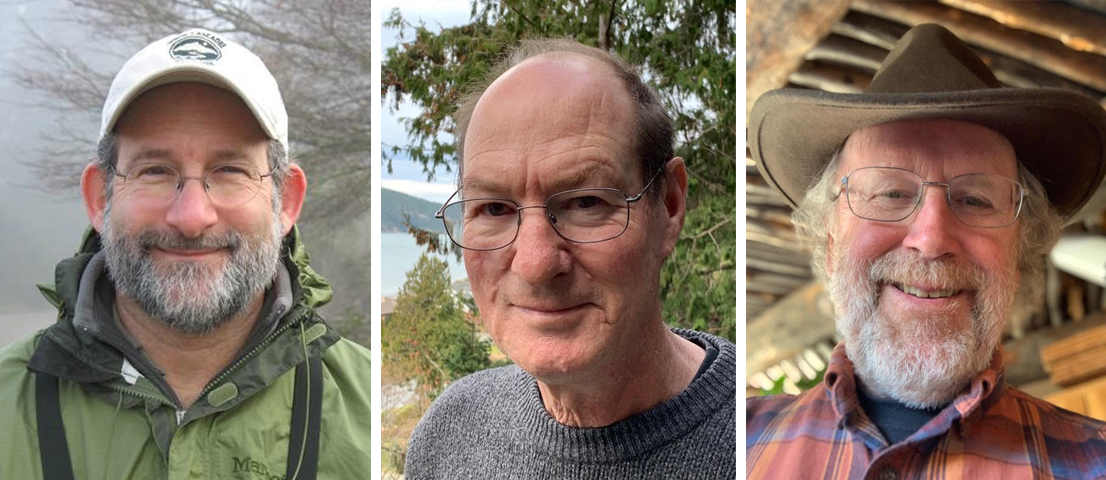 Bill Dietrich is a retired Seattle Times journalist and the author of 22 books, both nonfiction and fiction.  He also taught environmental journalism at Huxley College and served on the board of the Institute during development of the Environmental Learning Center.
John Miles taught at Huxley College of the Environment at Western Washington University for over 40 years and served as dean. A long-time North Cascades Institute Board member, he worked with Saul on many projects and programs, including the Graduate Program.
Nature Matrix: New & Selected Essays with Robert Michael Pyle
• Thursday, May 20 at 7 p.m.
Watch >>

Nature Matrix is a gathering of some of Robert Michael Pyle's most significant, original, and timely expressions of a life immersed in the natural world, in all its splendor, power, and peril, and has  been nominated for a 2021 PEN America Literary Award! The essays range from Pyle's experience as a young national park ranger in the Sierra Nevada to the streets of Manhattan; from the suburban jungle to the tangles of the written word; and from the phenomenon of Bigfoot to that of the Big Year—a personal exercise in extreme birding and butterflying. Nature Matrix shows a way back toward possible integration with the world, as it plumbs the range and depth of experience in one lucky life lived in close connection to the physical earth and its denizens. This collection brings together the thoughts and hopes of one of our most widely read and respected natural philosophers as he seeks to summarize a life devoted to conservation.