Nature of Writing Speaker Series
Village Books and North Cascades Institute present The Nature of Writing Speaker Series Spring 2021
As the days grow longer, bird chorus fills the mornings and green shoot and buds emerge, head into Spring with new books that explore and celebrate the natural wonders of the world! Join Village Books and North Cascades Institute in welcoming award-winning writers to share their latest works. From memoir to natural history, travelogue to nature poetry, regional history to environmental issues, you'll learn more about our wondrous planet through the voices of our country's most gifted authors in this series of free readings.
All readings are free and are hosted online by Village Books of Bellingham, pre-registration required at villagebooks.com/event.
Earth's Wild Music: Celebrating and Defending the Songs of the Natural World with Kathleen Dean Moore • Tuesday, March 16 at 6 p.m.
Watch >>
Earth's Wild Music is at once joyous and somber, a thoughtful gathering of new and selected essays spanning Kathleen Dean Moore's distinguished career as a tireless advocate for environmental activism in the face of climate change. Music is the shivering urgency and exuberance of life ongoing. In a time of terrible silencing, Moore asks, who will forgive us if we do not save nature's songs? Join us for an online celebration of the singing planet! Alongside Moore, this event will feature guests Hank Lentfer (creator of a library of the natural sounds of Glacier Bay), Mark Hixon (a coral reef ecologist who can imitate songs the fish sing) and Rachelle McCabe (a concert pianist who will play to explain how music enters our hearts). Saul Weisberg, executive director of North Cascades Institute, will moderate a conversation with Moore and our guests will discuss "How do we balance our joy in the world's music with our sorrow at losing the music-makers?"
A Shape in the Dark: Living and Dying with Brown Bears with Bjorn Dihle—plus a conversation on local grizzly bear recovery with Joe Scott from Conservation Northwest
• Saturday, April 3 at 7 p.m.
Watch >>
In A Shape in the Dark, Dihle blends personal experience with historical and contemporary accounts to fully explore the world of brown bears, from frightening attacks to the animal's place in Native cultures to the ways habitat degradation and climate change are threatening the species. A Shape in the Dark is an elegant and lyrical work that thoughtfully weaves outdoor adventure, natural history, and memoir together to present a fresh and vivid portrayal of these fascinating creatures.
BJORN DIHLE is a wilderness and wildlife film guide as well as a contributing editor for Alaska Magazine and Hunt Alaska Magazine, and has been published in Outdoor Life and Sierra, among others. He is the author of two previous books, Haunted Inside Passage: Ghosts, Mysteries, and Legends of Southeast Alaska and Never Cry Halibut: And Other Alaska Hunting and Fishing Tales. He lives on Douglas Island in Southeast Alaska with his family.
JOE SCOTT leads Conservation Northwest's trans-boundary grizzly bear recovery and habitat connectivity efforts in the North Cascades and southwestern BC, working collaboratively with several First Nations, research biologists, governments and other conservation organizations.
Washington Wildflower Hikes: 50 Destinations and Pacific NW Wildflowers
A Pocket Reference with Nathan Barnes
• Tuesday, April 20 at 7 p.m.

From flower-filled alpine meadows to streams lined with delicate Scouler's corydalis blooms, and from lakes covered in water lilies to Dr. Seussian drifts of bear grass, Washington offers something for every hiker—and flower lover. Brothers Nathan and Jeremy Barnes lead hikers on 50 trails to seasonal floral displays, ranging across varied landscapes. Features include:
Basics of wildflower identification
Tips for photographing wildflowers
"Hike Finder," which includes flowering season, trail difficulty, distance, and more
50 detailed wildflower profiles, including common and botanical names, description, botanical background
Stunning images throughout
Along with its showcased species, each handpicked route includes a detailed topo map, turn-by-turn route description, history of the area, and list of other wildflowers found along the trail.

Waymaking by Moonlight: New & Selected Poems with Bill Yake • Thursday, April 22 at 7 p.m.
Watch >>

For years, Bill Yake directed investigations into the toxic contamination of water, fish, and sediment for the Washington State Department of Ecology while writing poetry on the sly. Now his hidden life and perceptions are revealed in several collections of poetry, including This Old Riddle and Unfurl, Kite, and Veer. His new title Waymaking by Moonlight is the definitive collection of fifty years of Bill Yake's observant, thoughtful, lyrical, and startling poems—poems of the natural world and the curious ways of humankind. It is an intimate journal of phenomena, discoveries gathered from the backcountry and from the back shelves of second-hand bookstores, alike. These poems share the essences of rivers, friends, ancient trees, word origins, fungi, mountains, family, field guides, decay, and conversations overheard on rainy cabin porches and around campfires visited, on moonless nights, by impulsive and unfettered winds.
Singer Come from Afar with Kim Stafford
• Tuesday, April 27 at 6 p.m.
Watch >>

The five sections in Kim Stafford's Singer Come from Afar hold poems that summon war and peace, pandemic struggles, Earth imperatives, a seeker's spirit, and forge kinship. The former poet laureate of Oregon, Stafford has shared poems from this book in libraries, prisons, on reservations, with veterans, immigrants, homeless families, legislators, and students in schools. He writes for hidden heroes, resonant places, and for our chance to converge in spite of differences. Poems like "Practicing the Complex Yes" and "The Fact of Forgiveness" engineer tools for connection with the self, the community, and the Earth: "It is a given you have failed ... [but] the world can't keep its treasures from you." For the early months of the pandemic, Stafford wrote and posted a poem for challenge and comfort each day on Instagram and published a series of chapbooks that traveled hand to hand to far places—to Norway, Egypt, and India. He views the writing and sharing of poetry as an essential act of testimony to sustain tikkun olam, the healing of the world. May this book be the hidden spring you seek.
Rooted: Life at the Crossroads of Science, Nature, and Spirit with Lyanda Lynn Haupt
• Thursday, May 6 at 6 p.m.
Watch >>

In Rooted, cutting-edge science supports a truth that poets, artists, mystics, and earth-based cultures across the world have proclaimed over millennia: life on this planet is radically interconnected. Our bodies, thoughts, minds, and spirits are affected by the whole of nature, and they affect this whole in return. In this time of crisis, how can we best live upon our imperiled, beloved earth? Award-winning writer Lyanda Lynn Haupt's highly personal new book is a brilliant invitation to live with the earth in both simple and profound ways—from walking barefoot in the woods and reimagining our relationship with animals and trees, to examining the very language we use to describe and think about nature. She invokes rootedness as a way of being in concert with the wilderness—and wildness—that sustains humans and all of life. Each chapter provides tools for bringing our unique gifts to the fore and transforming our sense of belonging within the magic and wonder of the natural world.
An Evening with Saul Weisberg & Friends
• Thursday, May 13 at 7 p.m.
Watch >>

After 35 years of serving as Executive Director of North Cascades Institute, naturalist, poet and nonprofit leader Saul Weisberg is retiring. Over that time, our conservation organization has grown from an idea that emerged around a campfire between Saul and friends to a nationally-recognized organization that reaches thousands of learners every year. Join us for a fun evening of storytelling and conversation with Weisberg, William Dietrich and John Miles.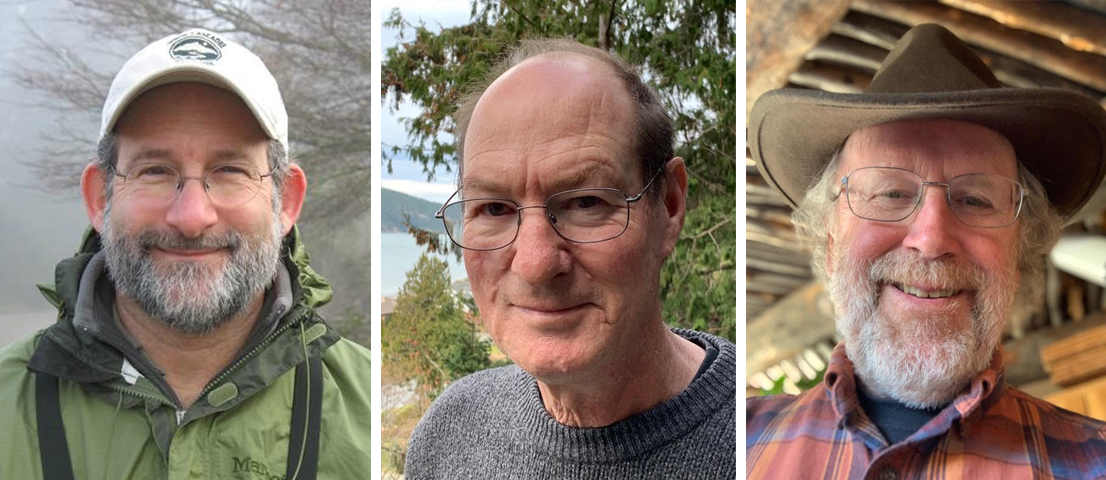 Bill Dietrich is a retired Seattle Times journalist and the author of 22 books, both nonfiction and fiction.  He also taught environmental journalism at Huxley College and served on the board of the Institute during development of the Environmental Learning Center.
John Miles taught at Huxley College of the Environment at Western Washington University for over 40 years and served as dean. A long-time North Cascades Institute Board member, he worked with Saul on many projects and programs, including the Graduate Program.
Nature Matrix: New & Selected Essays with Robert Michael Pyle
• Thursday, May 20 at 7 p.m.
Watch >>

Nature Matrix is a gathering of some of Robert Michael Pyle's most significant, original, and timely expressions of a life immersed in the natural world, in all its splendor, power, and peril, and has  been nominated for a 2021 PEN America Literary Award! The essays range from Pyle's experience as a young national park ranger in the Sierra Nevada to the streets of Manhattan; from the suburban jungle to the tangles of the written word; and from the phenomenon of Bigfoot to that of the Big Year—a personal exercise in extreme birding and butterflying. Nature Matrix shows a way back toward possible integration with the world, as it plumbs the range and depth of experience in one lucky life lived in close connection to the physical earth and its denizens. This collection brings together the thoughts and hopes of one of our most widely read and respected natural philosophers as he seeks to summarize a life devoted to conservation.