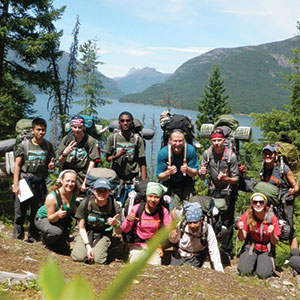 To watch a friend die and not be able to help can be debilitating for anyone. For Joseph, who was born in Myanmar and fled at a young age with his family to find safety in Burmese refugee camps, it was a calling to learn how to save a life. He vowed at an early age to do something to save lives, yet he felt guilty for not being able to save his friend and was ashamed to talk about his past.

On his first day of class in the US, Joseph was intrigued by an opportunity offered to him during a North Cascades Institute presentation: spend xx days and nights in the North Cascades wilderness learning outdoor, stewardship and leadership skills with Youth Leadership Adventures. Four months later, he was on the trail with a backpack and team of peers and mentors that would change his life.

Because of his background as a refugee, he assumed people wouldn't like him and so was always on the defensive. And despite speaking six languages, Joseph was uncomfortable speaking English in front of others.

YLA gave him the opportunity to conquer these fears in a safe, supportive environment and to learn, alongside his peers, the value of nature and how he could make a positive difference in the world.

Joseph found refuge in his YLA group and began to understand that others didn't hate him, but rather the hate and guilt he had carried within himself all these years following his friend's death had drastically impaired his ability to make friends. The most challenging experience was presenting his story, in English, to the adult visitors who came midway through the trip. He challenged himself and was able to share his story and aspirations to one day be an EMT or Search and Rescue member.

"My experiences from my summer trip influenced me to become a man who values nature, animals, and friends. Also, it made me become a more confident and social man than I was before. And I understand more about friendship and more about peoples' lives. The most valuable thing I gained from the trip is happiness because the whole trip makes me feel the way I never felt before. "

After the YLA trip, Joseph was nominated to participate in the national program, TEEN CERT (Community Emergency Response Team) in Tukwila, and is now a trained volunteer able to assist in his community. Joseph's path to achieving his life-long goal to help save lives was jumpstarted through his participation in YLA.