Meet the talented crew of Youth Leadership Adventures staff!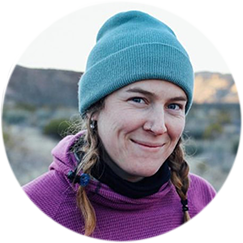 Elle Gasperini
Youth Leadership Manager
Elle grew up in Minnesota, building forts, stomping in mud puddles and going on backyard adventures as a kid. She fell in love with the Pacific Northwest while studying Environmental Policy at the University of Puget Sound. After graduating, she worked as an Outward Bound Instructor among the lakes and white pines of Minnesota & mesas, canyons and rivers of the Big Bend region of Texas. Now back in the PNW, Elle is excited to continue deepening her own understanding of the history, processes and relationships that connect us to each other and to the planet we inhabit and hopefully spark inspiration for others to do the same. She began her North Cascades Institute journey in Fall 2018 as a Mountain School instructor and then moved into Youth Leadership Adventures. When not facilitating experiences for others in the outdoors, she can usually be found curled up drinking tea and reading a book after a day of climbing, snowboarding or paddling with friends.
Neal Smeltzer
Youth Leadership Coordinator
Born in Vermont, Neal grew up with a love for wandering around the local woods, lakes and mountains. While attending Colorado College, he realized his love for education. Combining these passions, Neal worked for a number of nonprofits and completed a master's degree in Outdoor Education at the University of Edinburgh. Prior to arriving in the North Cascades, he instructed dogsledding expeditions for Outward Bound across the frozen lakes of northern Minnesota. Neal enjoys backcountry skiing, paddling and exploring any new area he can find on a map. He acknowledges how his privilege has enabled access to the outdoors, and through this work is committed to promoting equity and justice as they relate to outdoor places.
Mia Munoz
Youth Leadership Assistant Coordinator
Mia grew up in Vancouver, WA where she spent the majority of her time outdoors enjoying the beauty of the greater Columbia River Gorge and Mount St. Helens region. She fell in love with learning and teaching about the outdoors while working for the Yellowstone Youth Conservation Corps the summer before her senior year of high school, leading her to move up to Bellingham to attend Western Washington University. Having just finished her environmental education degree, Mia is excited to be joining the YLA team and looks forward to deepening her connection with the North Cascades and sharing her love for the environment with the local community. In her spare time, Mia enjoys hiking, photography, and spending time with her loved ones and her kitten.