Skagit Youth Conservation Planning Retreat 2017
Program Series
Learning Center Programs
When

Feb 22, 2017 09:00 AM

to

Feb 23, 2017 01:00 PM

Where

North Cascades Environmental Learning Center

Instructors
Institute staff
Triple Accommodations
$45.00
Quadruple Accommodations
$45.00
Cost with no Lodging
$20.00
Add it to your calendar

vCal




iCal
SKAGIT YOUTH CONSERVATION EDUCATION PLANNING RETREAT
The Skagit Youth Conservation Education Planning Retreat is an opportunity for organizations and agencies providing conservation education programming to Skagit youth to gather and exchange knowledge and resources of existing programs. Our discussions and planning focus on programs serving youth ranging from kindergarten through 12th grades within the Skagit Watershed including school and non-school programming. 
Through this exchange, we hope to strengthen the network of groups providing youth conservation education within the Skagit watershed while creating an action plan for building capacity and effectiveness within the program offerings in the Skagit region.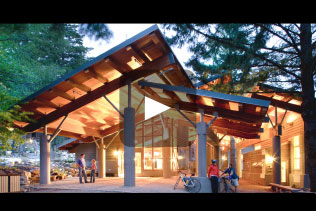 ABOUT THE LOCATION
North Cascades Institute operates the North Cascades Environmental Learning Center, which opened in 2005, in partnership with the City of Seattle and the National Park Service. It is located in the heart of North Cascades National Park just off of Highway 20 on the north shore of Diablo Lake. Facilities include overnight lodging for up to 92 participants; multimedia classrooms, a library and meeting spaces; a lakeside dining hall with a recycling/composting center; an amphitheater, outdoor learning shelters, trails leading into the surrounding wildlands and a dock on Diablo Lake for paddling adventures.
DIRECTIONS TO THE CENTER
The Learning Center is located approximately 75 miles east of Burlington, at milepost 127.5 on the North Cascades Highway (Highway 20). We suggest allowing three hours of travel time from Seattle and two hours from Bellingham. Click here for Google Map directions.
LODGING AND FOOD
The Learning Center has three beautiful, eco-friendly guest lodges, each with seven to eight rooms and gender-specific restrooms; two of the lodges also have comfortable group lounges with gas-lit stoves. Each room has four twin beds (in the form of two bunk beds), at least one desk, a reading lamp and a wardrobe with lockable compartments.
All meals are included and served in our dining hall, which uses over 70% local and organic food. Our kitchen staff is responsive to diet restrictions and preferences.
The campus offers wireless internet, a range of meeting spaces and resources and nearby recreation opportunities.