Thirty Years of Transformation
Reflections by Saul Weisberg, North Cascades Institute Co-founder and Executive Director, 2017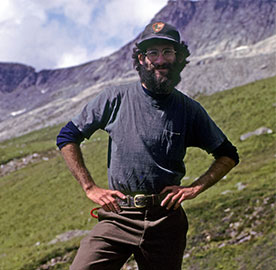 For most of my life I have defined myself as a naturalist. I love being outside, poking around in nature, paying attention to what's going on. It began as a kid, when I fell in love with birds. And later, butterflies. When I began climbing, I fell in love with mountains, then my attention turned to rocks. My wife showed me how to fall in love with plants. What's next?
In the early 1980s, I was studying field biology in graduate school and working for North Cascades National Park as a climbing ranger. Sitting around campfires at night, friends and I dreamed of sharing the wonders of the North Cascades with others. We were passionate conservationists during that tumultuous period of the Northwest timber wars. We recognized that education — the experience of learning together in wild places — had the potential to be a powerful tool for protecting the landscape of this place that we loved.
We were drawn to field-based education, to the practice of walking and learning in the mountains. We also knew that to really understand a place required using all faculties of the brain: science and the humanities, facts and feeling, postulates and poetry. And we were drawn to explore our public lands, savoring this heritage of lands owned by We, the People.
These are the themes with which we launched North Cascades Institute in 1986, and they still motivate and inform our work three decades later.
So much has changed from those early years when all our classes were based around trails and tents, when we designed our catalog by hand and our "office" was wherever we could find an empty desk.
Today, in the middle of this 13 million acre ecosystem (7 million acres of which are protected as public lands on both sides of the border), the Institute operates the Environmental Learning Center, an amazing campus on the shores of Diablo Lake that serves thousands of people every year. We have a Graduate M.Ed. program in partnership with Huxley College of the Environment, a spectrum of transformative youth programs including Mountain School and Youth Leadership Adventures, a Foodshed program that connects locally-grown food and farmers to hungry learners, and a professional staff of 60 and committed board of directors dedicated to conserve and restore Northwest environments through education.
There are many people who have shared their ideas, passion, curiosity and desire to create a better world with us. Thanks to everyone who has helped  the Institute evolve and grow over the past 30 years. From teachers to artists, 5th graders to wildlife biologists, elected officials to donors, North Cascades Institute is the sum of an amazing community of special people. We have had the good fortune to work with amazing and dedicated partners – the National Park Service, US Forest Service, Seattle City Light and Western Washington University.
In the beginning, sitting around those campfires, we joked that the mission of North Cascades Institute was to save the world. Well, now I'm serious. If you're going to have a mission, it's got to inspire you. What's next?
Read an interview with Saul Weisberg on the Institute's 30th Anniversary in the Everett Herald
Read "North Cascades Institute Celebrates 30 Years" in the Mount Baker Experience
Read "North Cascades Institute turns 30" in Outdoors NW

Read a story about our Learning Center in the Cascadia Weekly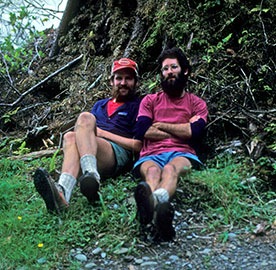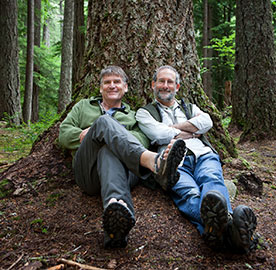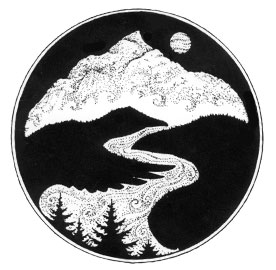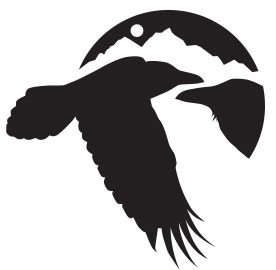 Institute co-founders Tom Fleischner and Saul Weisberg, then & now (above); Institute logo, then & now
Watch a video about North Cascades Institute — our roots, the people who helped get us started and where we're going next — in this video made for our 25th Anniversary!