Youth Impact Stories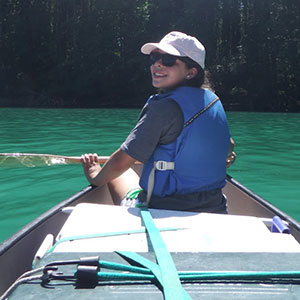 Crystal Sierra
Coming from a Puerto Rican-American single parent household, transportation and income kept Crystal from participating in 'typical' community activities. She wanted to become the first person in her family to go to college, but didn't know where to start. Then she found the Kulshan Creek Neighborhood Youth Program, a partnership initiative in which North Cascades Institute works to make environmental education more accessible for low-income youth in one of the Skagit Valley's most racially diverse neighborhoods.
Crystal loved the field trips with the Kulshan Creek Neighborhood Youth Program to places like Baker Lake, the Learning Center and the Migratory Bird Festival at Whidbey Island, and she began to wonder if field biology could be a potential career path for her. She was the perfect candidate for the Institute's Youth Leadership Adventures 16-day Science and Sustainability course! But whether or not her family could afford it was another story.
The reality of not having the funds to take part in Youth Leadership Adventures weighed heavy on Crystal and her family.
"Like everything else I'm interested in doing," she wrote in her application, "money is a big factor."
She crossed her fingers and decided to apply for an Institute scholarship. When Crystal found out she was accepted in the program with a scholarship, she was elated: "I felt so blessed! When the Institute assured me that things I didn't have, like a sleeping bag and hiking boots, would be provided to me, I just remember feeling so welcomed! No judgment and no problems."
Camping, canoeing, hiking and building a fire were all new experiences for Crystal, and her ability to look at any situation with a positive attitude turned these challenges into great learning opportunities. Youth Leadership Adventures provided Crystal with a community of peers and mentors that could inspire her toward personal empowerment during two weeks of fieldwork and leadership development.
Coming out of the woods two weeks later, Crystal was ready to pursue her dreams. "After this summer, I feel like I can do anything! The leadership skills and confidence I gained is something I will never forget."
The Institute will continue to work with Crystal over the next year as she completes a meaningful service project in her home community. We look forward to continuing to tell her story.
---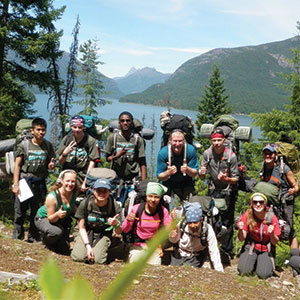 Joseph
To watch a friend die and not be able to help can be debilitating for anyone. For Joseph, who was born in Myanmar and fled at a young age with his family to find safety in Burmese refugee camps, it was a calling to learn how to save a life. He vowed at an early age to do something to save lives, yet he felt guilty for not being able to save his friend and was ashamed to talk about his past.
On his first day of class in the US, Joseph was intrigued by an opportunity offered to him during a North Cascades Institute presentation: spend 8 days and nights in the North Cascades wilderness learning outdoor, stewardship and leadership skills with Youth Leadership Adventures. Four months later, he was on the trail with a backpack and team of peers and mentors that would change his life.
Because of his background as a refugee, he assumed people wouldn't like him and so was always on the defensive. And despite speaking six languages, Joseph was uncomfortable speaking English in front of others.
Youth Leadership Adventures gave him the opportunity to conquer these fears in a safe, supportive environment and to learn, alongside his peers, the value of nature and how he could make a positive difference in the world.
Joseph found refuge in his group and began to understand that others didn't hate him, but rather the hate and guilt he had carried within himself all these years following his friend's death had drastically impaired his ability to make friends. The most challenging experience was presenting his story, in English, to the adult visitors who came midway through the trip. He challenged himself and was able to share his story and aspirations to one day be an EMT or Search and Rescue member.
"My experiences from my summer trip influenced me to become a man who values nature, animals, and friends. Also, it made me become a more confident and social man than I was before. And I understand more about friendship and more about peoples' lives. The most valuable thing I gained from the trip is happiness because the whole trip makes me feel the way I never felt before. "
After the Youth Leadership Adventures trip, Joseph was nominated to participate in the national program, TEEN CERT (Community Emergency Response Team) in Tukwila, and is now a trained volunteer able to assist in his community. Joseph's path to achieving his life-long goal to help save lives was jumpstarted through his participation in Youth Leadership Adventures.
---
Meron Abdisa
Meron and her brother moved to the Seattle area from Ethiopia. An English Language Learners student at Shorecrest High School in Shoreline, she speaks Amharic at home where she lives with her adoptive mother. She struggles with English and confidence in public speaking, saying, "It is hard for me to overcome fear and challenge myself."
When she saw the opportunity to participate in North Cascades Institute's Youth Leadership Adventures, she decided to take it. Over eight days, Meron visited a National Park for her first time, canoe-camped on Diablo Lake, backpacked and completed trail projects while developing her leadership skills.
"The stewardship work helped me focus on the future," Meron explains. "I learned to talk to people and presented in front of a class. My favorite memories were waking up early and doing yoga, canoeing and singing as a group. These experiences shaped me by helping me believe that I can do things without giving up easily."
---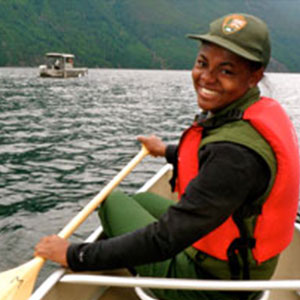 Grace Bogne
Grace is a first generation American who was born in Cameroon. She moved to the United States in 2006 and participated in North Cascades Wild during the summer of 2007.

"My experience at North Cascades was fun, but also challenging to some degree. When I went on the trip, I had been in the U.S. for less than a year and was still not confident in my English skills, which made it difficult at times to express my thoughts. However, going on this trip opened up a lot of doors for me. I was able to gain leadership skills, from being leader of the day, as well as canoeing and camping skills. Through this trip, I was able to see that the state of Washington was not just made of tall skyscrapers, or suburban neighborhoods, but beautiful mountains, bright green lakes, and a variety of plants and animals. Finally, I learned how important it is to preserve our national parks, so that future generations will have the chance to experience what the North Cascades Wild students experienced."

Grace came back to work as a student hire for North Cascades National Park this past summer. She also participated in our inaugural Youth Leadership Conference in November. She is currently a freshman at Seattle University and plans to continue working for public lands preservation.
---
Bianca Elena Valles
Bianca is a senior at Mount Vernon High School. She participated in North Cascades Wild during the summer of 2009. "I can still remember all the emotions I went through when I got that phone call saying I was accepted to go on this trip! Pure shock, excitement, anticipation, and wonder overcame me. But once I actually got to go on the trip, my whole point of view of the world changed, and many doors opened up for me."
The following summer, Bianca went on to participate in a 3-week Watershed Ecology program in the Copper River Delta of Chugach National Forest, Alaska. This November, she returned to the North Cascades to attend our inaugural Youth Leadership Conference.

She says, "Once I viewed the beauty of the North Cascades, I realized something. I actually want to help preserve this captivating place for many future generations. My group leaders taught me how important it is to care for natural areas, and what we can do to help conserve it. If we minimize the amount of energy and water we use, even by a little bit, we can help slow down climate change or global warming. If we just choose to help out by doing small things like composting, recycling, shorter showers, etc, we can make a difference. I have learned all these facts and much more, and have dedicated myself to teaching others about what I have learned."

Next year, Bianca plans to return to the North Cascades as a Park Ranger through the student hire program.
---
Gabriela Luna
Gabriela is a sophomore at Burlington-Edison High School who experienced her very first National Park on her 12-day North Cascades Wild trip this past summer. She also participated in our inaugural Youth Leadership Conference this November.

She says, "The experience changed my way of life; I view the world so much more differently and also myself. When I first started the trip, I was a shy person and I thought I couldn't ever be a leader. Now I know how it feels to be a leader. I want to use my voice to reach out to others and help make a change, not only for nature, but also for my community."

Gabriela is using her voice and reaching out to others this December when she is going to speak about her experience at the Champions of Diversity Awards Ceremony at Skagit Valley College. While she is still narrowing down her options, she says she is intrigued at the idea of studying ecology after connecting with regional service organizations at the Youth Leadership Conference.
---
Laura Humes
Laura Humes is a junior at Shorewood High School. She participated in Parks Climate Challenge Program in 2009, where she led service projects for students in Washington, DC and Seattle.

"The thing that surprised me the most is how really connected I became to the North Cascades. How deeply I began to care about my surroundings being there for a whole month. It was all a new experience for me."

In the summer of 2010 she worked on a trail crew at Mount Rainier National Park and talked to Obama administration officials about her outdoor experiences and how she would get more people, especially kids, outside. Later that fall she joined us for the Youth Leadership Conference, where she learned about further steps she can take.

"I want to become an environmental educator, and I learned so much about the steps I can take to make that happen. This program has given me useful skills and established direction in my life."
---
Scott Shirley
In Scott's own words, he "would definitely have quit going to high school by now" had he not found other options. Following a move to Knappa, Oregon, Scott joined the 2010 Cascades Climate Challenge team. He is now on track to graduate this spring and working with other Knappa Cascades Climate Challenge team members to host a sustainability fair for elementary and middle school students in the area.
"I intended to learn about climate change so I could teach it to elementary schoolers because I want to make a difference and this trip has helped me more than anything else could."
At the Youth Leadership Conference Scott made connections with agency personnel and mapped out the steps needed to fulfill his goal of becoming a wildland firefighter.