Impact Stories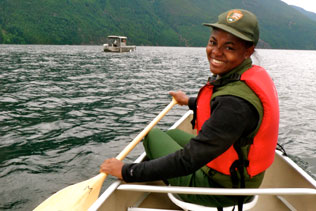 Grace Bogne
Grace is a first generation American who was born in Cameroon. She moved to the United States in 2006 and participated in North Cascades Wild during the summer of 2007.

"My experience at North Cascades was fun, but also challenging to some degree. When I went on the trip, I had been in the U.S. for less than a year and was still not confident in my English skills, which made it difficult at times to express my thoughts. However, going on this trip opened up a lot of doors for me. I was able to gain leadership skills, from being leader of the day, as well as canoeing and camping skills. Through this trip, I was able to see that the state of Washington was not just made of tall skyscrapers, or suburban neighborhoods, but beautiful mountains, bright green lakes, and a variety of plants and animals. Finally, I learned how important it is to preserve our national parks, so that future generations will have the chance to experience what the North Cascades Wild students experienced."

Grace came back to work as a student hire for North Cascades National Park this past summer. She also participated in our inaugural Youth Leadership Conference in November. She is currently a freshman at Seattle University and plans to continue working for public lands preservation.

Bianca Elena Valles
Bianca is a senior at Mount Vernon High School. She participated in North Cascades Wild during the summer of 2009. "I can still remember all the emotions I went through when I got that phone call saying I was accepted to go on this trip! Pure shock, excitement, anticipation, and wonder overcame me. But once I actually got to go on the trip, my whole point of view of the world changed, and many doors opened up for me."
The following summer, Bianca went on to participate in a 3-week Watershed Ecology program in the Copper River Delta of Chugach National Forest, Alaska. This November, she returned to the North Cascades to attend our inaugural Youth Leadership Conference.

She says, "Once I viewed the beauty of the North Cascades, I realized something. I actually want to help preserve this captivating place for many future generations. My group leaders taught me how important it is to care for natural areas, and what we can do to help conserve it. If we minimize the amount of energy and water we use, even by a little bit, we can help slow down climate change or global warming. If we just choose to help out by doing small things like composting, recycling, shorter showers, etc, we can make a difference. I have learned all these facts and much more, and have dedicated myself to teaching others about what I have learned."

Next year, Bianca plans to return to the North Cascades as a Park Ranger through the student hire program.


Gabriela Luna
Gabriela is a sophomore at Burlington-Edison High School who experienced her very first National Park on her 12-day North Cascades Wild trip this past summer. She also participated in our inaugural Youth Leadership Conference this November.

She says, "The experience changed my way of life; I view the world so much more differently and also myself. When I first started the trip, I was a shy person and I thought I couldn't ever be a leader. Now I know how it feels to be a leader. I want to use my voice to reach out to others and help make a change, not only for nature, but also for my community."

Gabriela is using her voice and reaching out to others this December when she is going to speak about her experience at the Champions of Diversity Awards Ceremony at Skagit Valley College. While she is still narrowing down her options, she says she is intrigued at the idea of studying ecology after connecting with regional service organizations at the Youth Leadership Conference.

Laura Humes
Laura Humes is a junior at Shorewood High School. She participated in Parks Climate Challenge Program in 2009, where she led service projects for students in Washington, DC and Seattle.

"The thing that surprised me the most is how really connected I became to the North Cascades. How deeply I began to care about my surroundings being there for a whole month. It was all a new experience for me."

In the summer of 2010 she worked on a trail crew at Mount Rainier National Park and talked to Obama administration officials about her outdoor experiences and how she would get more people, especially kids, outside. Later that fall she joined us for the Youth Leadership Conference, where she learned about further steps she can take.

"I want to become an environmental educator, and I learned so much about the steps I can take to make that happen. This program has given me useful skills and established direction in my life."

Scott Shirley
In Scott's own words, he "would definitely have quit going to high school by now" had he not found other options. Following a move to Knappa, Oregon, Scott joined the 2010 Cascades Climate Challenge team. He is now on track to graduate this spring and working with other Knappa Cascades Climate Challenge team members to host a sustainability fair for elementary and middle school students in the area.
"I intended to learn about climate change so I could teach it to elementary schoolers because I want to make a difference and this trip has helped me more than anything else could."
At the Youth Leadership Conference Scott made connections with agency personnel and mapped out the steps needed to fulfill his goal of becoming a wild land firefighter.