Give Big for Youth
now, more than ever...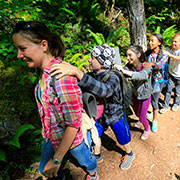 We need to come together to care for our planet. You and I can provide opportunities for the next generation to learn about and love their public lands and natural places.
or call (360) 854-2599 to make a donation by phone.
Maximize your gift—with $35,500 in matching funds*—by participating in The Seattle Foundation's GiveBIG event.
#GiveBIG early giving has begun! Schedule donations today for ALL your favorite nonprofits for the May 10 GiveBIG event.
*Thanks to Tom & Sonya Campion, The Sharing Foundation and a generous donor of the Seattle Foundation. 
With your help, North Cascades Institute provides the place and the experience; the opportunity for transformation; and the skilled and passionate educators to foster curiosity and learning.
Thank you for making a gift to educate 3,400 young people this year!
Together, we will:
Bring 5th graders to Mountain School

 so they will expand their senses on a silent forest walk and experience an outdoor classroom like no other.

Instill confidence in high school students in Youth Leadership Adventures

 when they reach the summit of Desolation Peak or paddle into camp after a long day on Ross Lake and empower them to be environmental stewards [Read student stories]

Equip local middle school students with snowshoes to explore their local volcano in winter and learn how climate affects the snowpack and watershed at Mt. Baker SnowSchool

.
Learn more about these programs and scholarship opportunities.
---
If you have any questions or would like to learn more about our Campaign for Youth, please feel free to contact our Development and Marketing Director Jodi Broughton at (360) 854-2596 or Jodi_broughton@ncascades.org