We're creating a new generation of leaders for communities throughout North America. Our graduates come to the program with a wide range of skills and experiences (listed below) and succeed in an equally diverse range of careers, from public and private schools to natural resource agencies and community service organizations.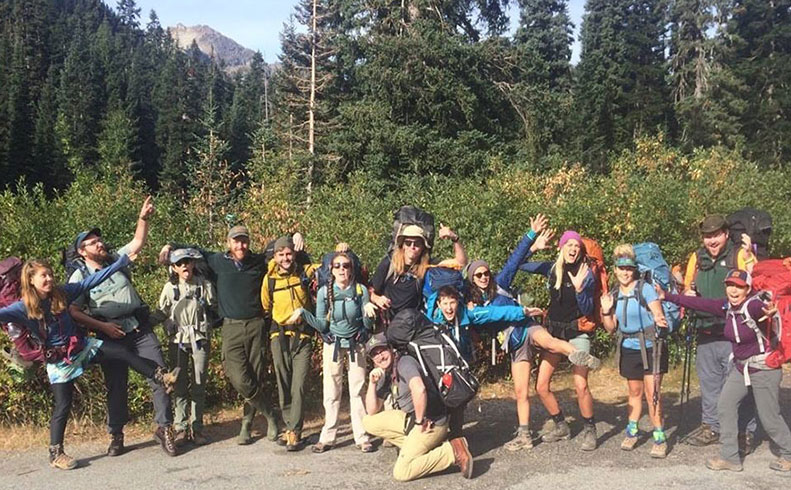 Class of 2019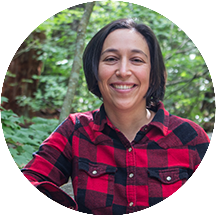 Marissa Bluestein
Marissa hails from the beautiful desert of Albuquerque, New Mexico, otherwise known as the Land of Enchantment. After graduating with a Bachelors of Arts in Journalism from the University of New Mexico, she worked in media for companies such as NBC and MTV.  She enjoys volunteering for social and environmental causes. While volunteering at the New Mexico Museum of Natural History and Science, she discovered her passion for interacting with children and teaching them about the diversity of their state. She decided it was time to get out of the control room and pursue a career where she can make a difference. Marissa's love for backpacking, hiking, cycling and climbing led her to want to combine her recreation life with her work life, and what better place for that than the North Cascades Institute! As an amateur photographer, Marissa uses photography to help connect herself and others to place – something she hopes to incorporate into teaching environmental education.
Eric Buher
Eric grew up in the Skagit River Watershed – as a seventh grader, he attended Mountain School in the days before the Environmental Learning Center – and he's excited to be undertaking graduate studies in the bioregion that he has called home for most of his life.  Eric attended Western Washington University where he earned his Bachelors of Science in Mathematics as well as his teaching certificate. He has taught high school mathematics for the past 10 years. Eric is an Eagle Scout, and remains an active volunteer with the Boy Scouts of America, serving in a variety of roles. He enjoys teaching knot-tying, outdoor skills and campfire songs to anyone who will listen. Eric decided to pursue his M.Ed. through North Cascades Institute  as a natural way to merge his interests in education and the Great Outdoors.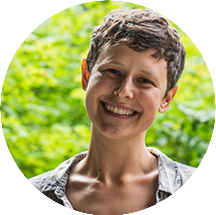 Charlee Corra
Charlee Corra grew up in Los Angeles, California, and has been drawn to science and adventures in the outdoors from a very young age. In her moments of free time, she preferred to be outside rock climbing, skiing, backpacking and exploring nature with friends and family. After high school, eager to pursue science, she ventured east to Boston where she attended Tufts University and received a Bachelors of Science in Biology and Environmental Studies. Her love of ecology, ocean ecosystems and scuba diving then brought her to Northeastern University where she received a Masters of Science in Marine Biology. Reflections on these academic experiences – as well as her time teaching rock climbing and scuba diving – brought her to realize that her passion lies in spending time outdoors and creating a positive learning space where others can make their own unique connections with nature. Charlee hopes that she can help others develop a deep sense of care and stewardship for their natural places and promote healthy living.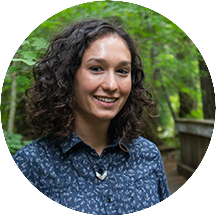 Liz Grewal
Liz was born and raised in a small town in California's Bay Area. Growing up, her summers and winters were spent visiting family in Utah and traveling to Yellowstone.  She started at Sonoma State University as a liberal arts major and was planning on becoming an elementary classroom teacher.  She realized teaching in the classroom was not her path, and so switched majors to biology. While at Sonoma, Liz enjoyed hiking, swimming in the river, was active on the equestrian team and playing for women's ultimate.  She volunteered with the SSU Nature Preserve as a naturalist, and working with school groups became the highlight of her week. Through a course in Belize, her passion for exploring nature through field biology and ecology was formed.  After graduating, she moved to Sacramento and completed a field ecology certificate. While in school, she worked at Folsom Lake College in the zoology lab, helping students with dissections and creating supplemental material for lab. Liz is excited to be a part the Master of Education program, gaining experience with outdoor education and pursuing a field that aligns with her passions.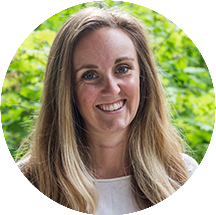 Ashley Hill
Ashley grew up in Colorado, completed her undergraduate degree at Western Washington University in 2012, and has been living and working in Key Largo, Florida for the last three years. She has always been in love with sharing the importance of our oceans and particularly enjoys teaching about coral reefs. It was because of her interest in education and community building that she applied to the graduate program with North Cascades Institute and Western Washington University. Ashley is motivated to delve into the world of environmental education and place-based learning and is looking forward to spending time outdoors and learning amongst a group of motivated folks while creating intentional community.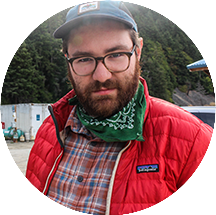 Tanner Johnson
Tanner was born and raised in Portland, Oregon and attended the University of Oregon in Eugene for his undergraduate education in Sociology, with a focus on Environmental Sociology. Tanner's interests are largely in the realm of food systems, environmental justice and political economy. For the past few years, he has been working in the food service industry, in addition to volunteering at school garden projects in his spare time. Tanner's motivation for pursuing the Master of Education program at North Cascades Institute is based on his passion for education, and in particular, the ways in which food systems education can connect people to the environment. Tanner's main hobbies are listening to records or tapes, gardening and cooking. Having a garden is a must for Tanner, and he enjoys the challenge of basing meals around what is growing, as well as helping others discover the joy of getting their hands dirty.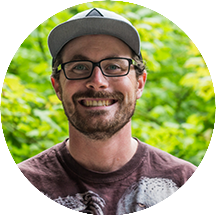 Brendan McGarry
Brendan grew up in Seattle, lucky to have parents with the energy to steward his love of nature. By age nine, he was an obsessed birder, a passion that has carried him around the world and led him to life-changing experiences in remote places. Learning about birds led Brendan to become a well-rounded naturalist, and he's developed strong interests in botany and geology.  With a passion for nature and a desire to teach, Brendan has spent much of his time as a professional naturalist, environmental educator, and outdoor guide. After graduating from the Evergreen State College with a Bachelors of Science, Brendan realized that he wanted to be more directly connected to the public by communicating concepts in ecology and issues in local and global conservation. When he's not studying natural history, Brendan enjoys spending time outside hiking, paddling, climbing trees, cooking and gardening. He is a published writer and photographer focusing on natural history. His blog, Wingtrip.org, focuses on explorations of the natural world.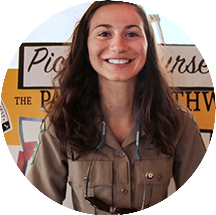 Montana Napier
Montana grew up in the Florida Panhandle, a place far away from the North Cascades known for sandy beaches, cypress swamps and curious array of reptiles. However, she's always had a love for mountainous terrain and rock climbing. During her undergraduate career, Montana took time off from school to thru-hike the Appalachian Trail from Georgia to Maine. This five-month experience opened her eyes to the natural and cultural communities of the East Coast, and inspired her to pursue place-based education, as well as outreach for public lands. In 2014, she graduated from Florida State University with a B.A. in Creative Writing. Soon after, she wandered out west to become a yoga teacher in Colorado, volunteered on farms in Washington and spent a summer interning at Wrangell-St. Elias National Park & Preserve in Alaska through the Student Conservation Association. Montana then moved to Whidbey Island to serve two years as the Interpretive Leader at Deception Pass State Park. In addition to learning more about education and nonprofit work, she is excited to explore the North Cascades and become a part of the community.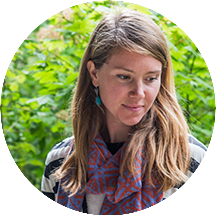 Darcy Page
Darcy Page was born on Whidbey Island and attended The Evergreen State College for her undergraduate degree. After college she worked as a marine naturalist, AmeriCorps counselor, outdoor science instructor, garden educator and horticulture therapy guide. Through these varied experiences, she had the opportunity to work with a wide range of student backgrounds, abilities, personalities, and needs. Darcy believes sustained time in the wild is one of the most nourishing experiences for a young person and for the future of our shared planet. She has a strong interest in sustainable food systems and connecting youth to their place within the natural world. Darcy spent significant time working in Hawai'i and California but is excited to learn in her home state of Washington once again.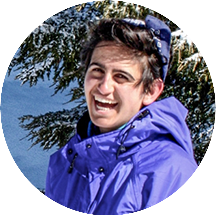 Gina Roberti
A geologist by trade, Gina Roberti grew up digging quahogs and exploring the shorelines of the Narragansett Bay in Rhode Island (the state with the largest coastline per capita!) amidst ancient metamorphic rocks of the Appalachian Mountains. Since graduating from Brown University in 2014, she contributed to various public education projects about the geology of the Western U.S. in partnership with the National Park Service and Smithsonian Museum of Tropical Research. Most recently she worked as a field based educator and naturalist with the Canyonlands Field Institute in Moab, Utah. Gina feels strongly about the mission of the North Cascades Institute. She is excited to delve into the natural history North Cascades, and to learn alongside peers, program participants and staff in such an intimate setting. She strongly believes in the power of education to inspire awareness, appreciation and stewardship for the natural world.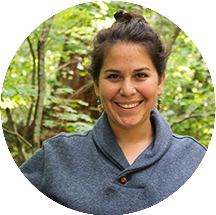 Amy Sanchez
Amy grew up in the San Fernando Valley of Los Angeles creating make-shift tents on top of her roof to use as reading forts. It wasn't until the age of 16 that she went on her first camping trip in Yosemite Valley and fell in love with the natural beauty that California has to offer. Once she graduated from UC Davis, she began to dedicate more of her time exploring national parks in Northern California. Her burgeoning passion for the outdoors has led her in search of a career where she can share her love of nature with others. She credits and values the many science teachers and science programs that were a part of her early education for her interest in Environmental Education and hopes to be able to provide kids with similar opportunities. Amy looks forward to exploring more of the West Coast with her ride-or-die puffball, Foxy.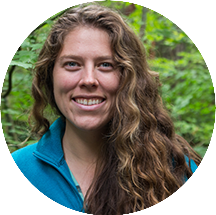 Kira Taylor-Hoar
Originally from Central Florida, Kira obtained her undergraduate degree in Wildlife Ecology and Conservation from the University of Florida. After graduation, she traveled the world in search of sustainable lifestyles, exploring ecovillages in Europe, Africa, and North America. She completed the Ecovillage Design Education program run by Gaia Education and worked with the Global Ecovillage Network and Fellowship for Intentional Communities. She is also trained in a healing practice called Wholeness Energetics, which uses intuition and guidance to help people see themselves as the wonderful beings they truly are. Kira believes that in order to heal our world, we must first heal ourselves, and is working daily towards seeing her true self and the truth in everyone around her.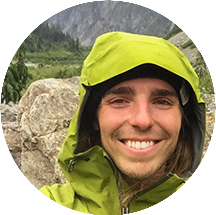 Nate Trachte
Nate Trachte is 22 years old and most recently lived in Durango, Colorado where he completed his undergraduate degree in Environmental Studies. Nate grew up in the Adirondack Park in upstate New York where he fell in love with the outdoors. An avid backcountry skier, camper, hiker, mountain biker and lover of adventure, Nate spends his time outside whenever possible. He is passionate about getting young people with little access to green space out into nature in hopes of inspiring the next generation of environmental stewards. Making connections with the natural world has been immensely important in his life and he is hoping to be able to share that gift with others. He is excited to be able to spend time in the area with North Cascades Institute exploring, learning and gaining the tools necessary to become an effective experiential educator.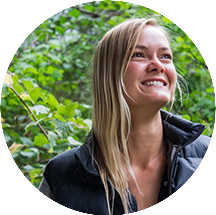 Zoe Wadkins
Hailing from the salty waters of the Salish Sea, Zoe comes to North Cascades Institute with a love for Washington's untamed places. Raised in a family where her mother was door to the mountains and forests, and her father the introduction to the sea, Zoe has spent most of her life in solace with the outdoors. With over ten years experience of collaborating with youth, Zoe comes to the Institute with a strong background facilitating youth leadership, curriculum development, conflict resolution and community organizing. As alumni of Western Washington University, Zoe has collaborated with a diverse group of individuals in a variety of situations, facilitating after-school programs, summer camps and classroom experiences all across the world. Witness to the self-worth and confidence fostered by an appreciation of the natural world in lives she has served, Zoe is thrilled to contribute toward youth enrichment in the Northwest and be part of something as amazing as the Institute.
Read more about this talented cohort of Graduate M.Ed. students in their own words on our blog
---
CLASS OF 2018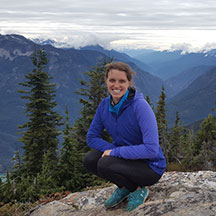 Jihan Grettenberger
As a proud Pacific Northwesterner from Olympia, Washington, Jihan is excited to be home to study at NCI and grow as an educator as she connects individuals directly to nature. Valuing nature and protecting our natural resources were ingrained in her at a young age as her parents took her camping, hiking, bird watching, and backpacking. At Pacific Lutheran University, she decided environmental education was her calling and pursed a degree in Environmental Studies. After graduating, she interned with Youth Garden Project in Moab, Utah and then served for two years as an Environmental Conservation Peace Corps Volunteer in Panama. She enjoys baking, bike riding, ultimate frisbee, berry picking, hiking, camping, and anything else that gets her outdoors and meeting new people.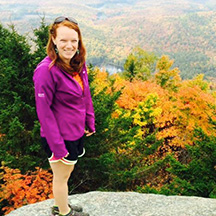 Kay Gallagher
Kay spent most of her childhood exploring the wilderness of New England. From a young age she developed a passion for science and curiosity. In 2012 she earned a degree in Biology from the University of Vermont. Since then she has held various environmental education jobs across the US: lead teacher at the Houston Zoo, residential educator for 5th graders at Nature's Classroom in NH, Naturalist / Camp Coordinator at a Farm/ Nature Center in Connecticut and, most recently, Farmyard Educator in northern Vermont. She has also spent the last 18 years teaching and training in the martial art of TaeKwondo, where she developed her passion for teaching and mentoring - both kids and adults. She is excited to dive into learning the skills to eventually operate her own environmental learning program. Outside of the classroom Kay enjoys crafting, block printing, split boarding, rock climbing, mountain biking, paddle boarding, martial arts and exploring her new surroundings!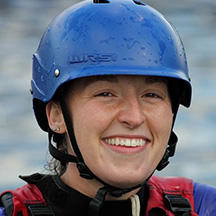 Jenny O'Toole
Jennifer O'Toole is from a suburb outside the Twin Cities, Minnetonka, MN. She grew up canoeing and camping in the Boundary Waters and swing dancing and singing in Minneapolis. Just returned from 3 years in China and Taiwan, she was learning a third language while teaching English and outdoor education with Outward Bound. She was in Mexico and Spain before that, travelling, teaching and practicing her salsa dancing! Though she's loved every public and private school opportunity she's had the privilege of teaching in, she's eager to immerse herself in the possibilities of a healthier education; any combination of outdoor, environmental, experiential, diverse culture and language-rich curriculum. Working at NCI she is inspired, challenged and pushed to grow as an educator and advocator for the Earth, re-centering herself on what education is all about.
Rachael Grasso
Rachael is a Pennsylvania native who grew up with a love for wild places and adventure. With a B.S. in Recreation, Park and Tourism Management from Penn State, she has guided and instructed throughout Pennsylvania's rivers, rocks, mountains, forests and caves. Most recently, Rachael worked in the world's oldest mountain range, the Appalachians, at the Mountain Institute in West Virginia. There, she blended her love of the outdoors with environmental science and placed-based learning. Over the years, Rachael has discovered she learns best from hands-on experience and interactive teaching methods, which makes NCI the perfect place for her to continue her education. She is thrilled to be in the Cascades, immersing herself in a new ecosystem. When she's not in the field teaching, Rachael loves to pack up her cargo van and explore the country with her husband, Brian. She hopes to see all fifty states by the time she turns thirty, and she's well on her way!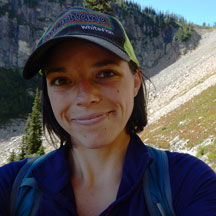 Hanna Davis
Growing up in the Manzano mountains of central New Mexico, Hanna spent her early years exploring the National Forest that was her backyard. She moved to Olympia, Washington to pursue her B.S. in Zoology at The Evergreen State College, and found herself in awe that a place could be so green. She spent the following years doing non-invasive wildlife research: studying jaguars in Belize, camera-trapping carnivores in Madagascar, and searching for wolves in central Idaho. She filled in the off-season working at daycares in ski resorts, and discovered she loved working with children. Hanna is delighted to be combining science and education in this amazing community of the North Cascades!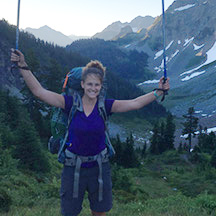 Melissa Biggs
Melissa grew up in Annapolis, Maryland, surrounded by roads and buildings.  She always craved being outside.  She jumped at every chance she could get to do any type of outdoor activities, such as camping, kayaking, hiking, and biking.  Melissa graduated with a bachelor's degree in Early Childhood and Elementary Education with a concentration in Environmental Studies.  After two years of teaching kindergarten and first grade, she decided to attend North Cascades Institute to achieve her dreams of teaching environmental education.  She is incredibly excited to receiving her Masters of Education, while being surrounded by a beautiful landscape.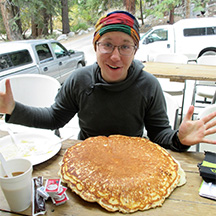 Sarah Clement
Sarah grew up in Seattle, Washington, and spent the first 22 years of her life in the Pacific Northwest. Her parents, active outdoor enthusiasts, used every family vacation to instill in Sarah a passion for the outdoors. She went along with it, rather reluctantly, until she arrived at Lewis & Clark College in Portland, Oregon, and discovered the college's outdoor program. Sarah spent much of her four years at Lewis & Clark in the College Outdoors warehouse, leading weekend trips, and playing ultimate Frisbee. After graduating with a degree in Environmental Studies, Sarah moved to Colorado to work for the Colorado Outward Bound School in Leadville. She worked for COBS for two seasons, and spent the winter months working at a Nordic center just outside of Leadville. She is an avid backcountry skier and a novice whitewater canoeist. After two years away from the gray skies of the PNW, Sarah is excited to return to her home territory.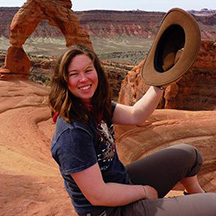 Emily Brine
Emily Brine, 23, is a Pacific Northwest native born and raised in Olympia, WA. She spent her childhood exploring the forests of the Olympic and Cascade mountain ranges and quickly became a lover of the outdoors. Emily took her passion for tromping around in the woods all the way to college where she earned a B.S. in Parks, Tourism, and Recreation Management from the University of Montana. Recently, Emily spent the summer of 2015 walking a distance of 2,650 miles from Mexico to Canada on the Pacific Crest Trail. Along the way she earned the trail name "Smokey" which is what her fellow graduate students call her at NCI. Her professional goal is to become a ranger for the National Park Service and to be the best ski instructor the world has ever seen. After graduate school, Emily plans on hiking the Appalachian Trail and saving the world!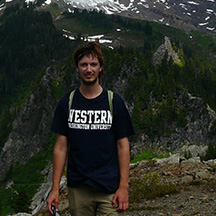 Nick Engelfried
Nick grew up surrounded by the beautiful mountains and forests of the Pacific Northwest, where he learned to appreciate and observe the natural world. Hours spent watching birds, insects, and plants in their habitats while growing up inspired him with a love of nature and a desire to share this passion with others. Over the years Nick has worked with birds of prey and hoof stock at the Oregon Zoo, taught kids about wetlands, developed campaign strategy for grassroots environmental and social justice groups, and helped start three environmental advocacy organizations based in Missoula, Montana. Somewhere along the way he earned a BA in Environmental Studies from Pacific University in Oregon, and an MS in Environmental Studies from the University of Montana. Nick decided to return to school after realizing he needed to reconnect with the love of nature that inspired him to get involved in conservation work in the first place, and to gain a better grounding in environmental education strategies and nonprofit work.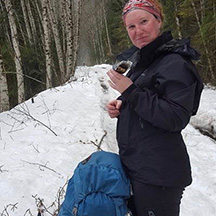 Ash Kunz
Born and raised on the east side of the Cascades in the recreational rich Central Washington town of Wenatchee. Ash spent most of her free time playing and exploring all the amazing adventures the Wenatchee Valley has to offer; from hiking to biking to climbing. While pursuing a Bachelor's Degree in German Language and Literature at Washington State University, she worked for the Outdoor Recreation Center, teaching climbing, backpacking, kayaking and skiing. After completing her degree, she joined the Student Conservation Association and completed a yearlong internship through the SCA, in conjunction with the National Park Service in Flagstaff, Arizona. Working with visitors, and school groups specifically, she found true joy in helping and teaching others about the natural world and introducing them to new experiences and ideas. This program brings her back to the Pacific Northwest – and to the mountains she loves – and will help deepen her ability for sharing the amazing beauty the world has to offer!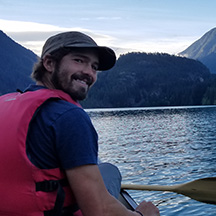 Alexei Desmarais
Though he grew up all over the world, Alexei calls the incomparable mountains of Crested Butte, Colorado home. When he moved to Seattle 3 years ago to work with in restoration and leadership development with urban teens he fell deeply in love with the Pacific Northwest (especially with the really big trees!!). Through outdoor explorations—skiing, mountain biking, and trail running—and professional experiences as an educator, naturalist, outdoor trip leader, ski patroller, and trail-builder he has come to know the lush, deep forests and high glaciated summits of the Pacific Northwest on a more meaningful level. He is thrilled about the opportunity to dig into a renewed sense of place, to gain greater familiarity with these mountain environs, and to live, learn and grow alongside and within the greater NCI community. When not in the mountains or naturalizing, Alexei can be found writing poetry. Or reading a good book.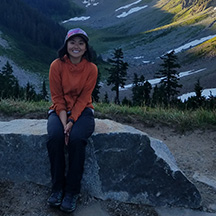 Angela Burlile
Angela was born in South Korea and raised in the beautiful Matanuska-Susitna Valley near Wasilla, Alaska. Growing up, she spent most of her childhood outside, camping, hiking and fishing around the mountains that surrounded her hometown. After finishing school, she moved to Colorado for two years at Colorado Mesa University and then completed her degree at Western Washington University. Wanting to gain a new perspective, she moved back to South Korea to teach ESL to public school elementary students for six years. She fell in love with teaching and hoped to find a way to combine this career with her love for the outdoors. She is grateful for the opportunity to develop her skills as an experiential educator and connect students to the natural world around them at the North Cascades Institute. In her free time, Angela enjoys exploring the world, meeting its many inhabitants, sharing cups of coffee, climbing mountains and catching the sunrise.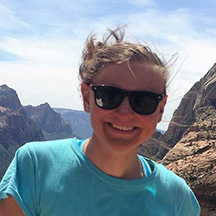 Becky Moore
Becky Moore grew up in a small coastal town in southeastern Connecticut, spending her childhood exploring the ocean, estuaries, forests and ski mountains of New England. Many summers of nature camp combined with adventurous parents created an early and deep passion for the outdoor world. She also discovered her love for kids through many years working as a camp counselor at a local organic farm. After getting a Bachelors of Science in Biology from Bates College, she hopped in her car and followed her heart and these two loves across the country to NCI, the perfect opportunity to combine a fascination with the biology and ecology of the natural world and teaching kids outside. Becky believes that her exposure to nature as a child was life-changing, and hopes to be able to instill the wonder and passion about the outdoors in the younger generation that they might not have the opportunity to discover otherwise.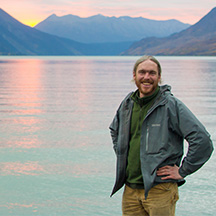 Dan Dubie
Growing up in New England I have always felt at home in wild places.  This comfort has lead me to work and live in wild places of Alaska, Idaho, Montana, Wyoming, Vermont, New Hampshire, Maine and now Washington.  In those places I have enjoyed living and working as a wildland firefighter, wilderness ranger, bear education specialist, sled dog handler, backcountry ski guide, and outdoor instructor.  Along with work and education I enjoy and have enjoyed natural history, fishing, hunting, wilderness canoeing, backpacking, photography, botany, birding, sailing, and just being outdoors.  My life of education, stewardship, conservation, outreach, and enjoyment of the outdoors has lead me to the NCI where I hope to share and grow as an educator, teacher, naturalist, and friend.  This natural progression through my life has led to this opportunity of refinement and growth that may provide a leadership role in a world of utmost love and passion to me!