"Dam Good" Chicken Dinner
Event Details
Adult (Age 13-61)

$20.00

Senior (Age 62+)

$20.00

Youth (6-12)

$15.00

Child (0-5)

$5.00
Thursdays & Fridays, June 30 - September 2, 7 pm
The quiet town of Newhalem has a lively past and once hosted hundreds of visitors who dined and danced under the stars. Guests had dinner at Gorge Inn, then strolled through Ladder Creek Gardens, where they marveled at the "wonders of electricity" that illuminated the falls and provided a musical background.  
Relive the experience with a unique dining experience in the heart of the North Cascades: the "Dam Good" Chicken Dinner! Gather your friends and family at the historical – and recently renovated – Gorge Inn in "downtown" Newhalem, where you'll be treated to a mouth-watering plate of fried chicken, mashed potatoes, green beans and a tossed salad – vegetarians can opt for the veggie lasagna. Then top it off with homemade apple pie!
After dinner, you're invited to take a stroll along the Skagit River to Ladder Creek Gardens for the historic night-time light show. As the evening descends, you will see waterfalls rushing through the forest, illuminated by multi-colored lights that change by the minute. Take a step back in time as the historic light show inspires and entertains. Sorry, Ladder Creek Falls is not wheelchair accessible.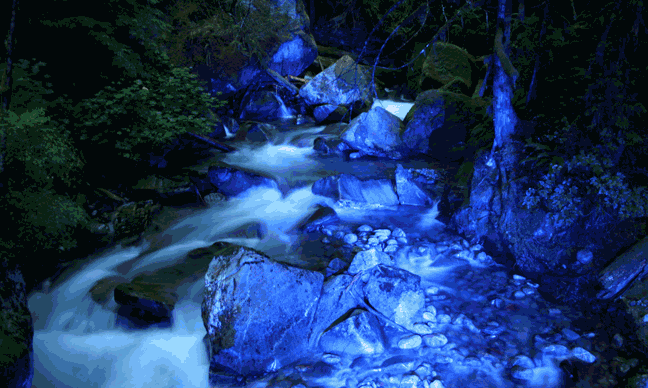 Dinner must be reserved and pre-paid. For more information, call (360) 854-2589.