Dam Good Chicken Dinner and Ladder Creek Falls by Night
Event Details
Adult (Age 13-61)

$19.00

Senior (Age 62+)

$19.00

Youth (6-12)

$14.00

Child (0-6)

$5.00
Dates: Thursdays & Fridays, July 5 - august 30
Dinner: 7 pm
Presentation: 8 pm
Ladder Creek Falls Tour: 8:45 - 10 pm
The quiet town of Newhalem has a lively past and once hosted hundreds of visitors who dined and danced under the stars. Guests had dinner at Gorge Inn and then strolled through Ladder Creek Gardens, where they marveled at the "wonders of electricity" that illuminated the falls and provided a musical background.  
Seattle City Light, the National Park Service and the North Cascades Institute have teamed up to provide that historical experience for visitors once again.
Your tour will start at the renovated Gorge Inn in "downtown" Newhalem, where you'll be treated to the famous "Dam Good Chicken Dinner," a Skagit tradition now updated and available only for these tours (Vegetarians have the options of choosing a veggie lasagna). Dinner also includes a delicious salad, tasty side dishes, mouth-watering dessert and a beverage.
After dinner, enjoy a slideshow presentation and talk on the cultural history of Newhalem, Seattle City Light and the Skagit River Hydroelectric Project. At 8:45 pm, we'll stroll along the Skagit River to Ladder Creek Gardens with a National Park Service ranger. Be sure to grab your flashlight and join the ranger on the short trail to Ladder Creek Falls.
As the evening descends, you will view three sets of rushing falls, each illuminated by multi-colored lights that change by the minute. Take a step back in time, as the historic light show inspires and entertains.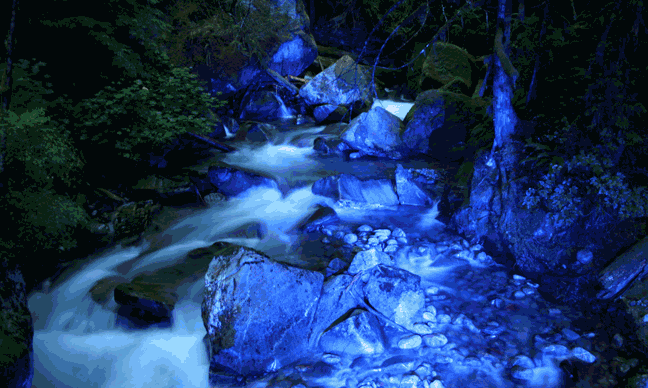 (The Ladder Creek Falls by Night part of the tour involves walking approx. 1 mile over rough, uneven & unpaved ground, and climbing/descending several staircases. Sorry, Ladder Creek Falls is not wheelchair accessible.)
Ladder Creek Falls by Night walking tours are free, but dinner must be reserved and pre-paid. For more information, call (360) 854-2589 or send us an email.