Graduate Students
M.Ed. Graduate
Students
We're creating a new generation of leaders for communities throughout North America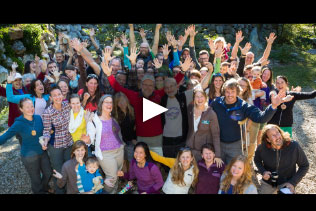 Many of the Institute's graduate students are professionals with educational backgrounds who are looking to expand their horizons with non-traditional teaching opportunities. The Institute offers an alternative graduate program that blends theory and practice — interdisciplinary, field-based education — where you'll learn best practices in real-world settings. Each graduate student gets to experience four seasons in the North Cascades, including a summer full of backpacking and naturalist studies, an autumn spent designing curriculum and teaching in the award-winning Mountain School environmental education program and a winter studying place-based education and nonprofit administration. During your free time in the North Cascades, there are countless opportunities for hiking, boating, skiing, climbing and other incredible recreation pursuits in one of the wildest settings in America.
Graduate Class of 2015



Tyler Chisholm
Tyler discovered her passion for the outdoors at a small summer camp (Camp Varsity) in the beautiful Blue Ridge Mountains of Virginia. After attending the camp for eleven summers, she proceeded to become a counselor for five more summers, furthering her love for the outdoors and teaching children of all ages.  A "rock hound" from an early age, Tyler obtained her B.S. in Geology and Geophysics from Purdue University in May of 2012.  Along the way, she had some wonderful, and sometimes extremely challenging, experiences working as an intern at NASA's Goddard Space Flight Center and participating in geological field work in the East African Rift Valley in Kenya. Since graduation, Tyler has been working at REI and substitute teaching for middle school and high school in her hometown of Brownsburg, Indiana. Whenever she gets a chance, Tyler enjoys road bicycling, backpacking, yoga, kayaking, baking and scuba diving (in warm water, of course).




Annabel Connelly
Born and raised in Salt Lake City, Utah, Annabel grew up spending summers in the Colorado Rocky Mountains and developed a passion for being outside at an early age. Annabel continued to foster this interest through environmentally focused classes and participating in school-led camping trips around the state and the country. In 2012, she graduated from the University of Redlands and the Johnston program with a degree in Environmental Humanities. While there Annabel also participated in Outdoor Programs, a student-led organization that puts on hiking and camping trips for fellow students. Annabel loves to travel, read, write, cook, and take photographs. Ultimately, Annabel looks forward to immersing herself in the North Cascades and help young people and adults develop a love and appreciation of the outdoors through education and positive experiences..

Kaci Darsow
Originally from the beautiful wet side of Washington State, Kaci attended Western Washington University where she earned her B.A. in Outdoor Environmental Education and Interpretation in 2011. After graduation, her continued infatuation with Bellingham led her to a yearlong stint as an Americorps Volunteer providing conservation education and energy audits to low-income families. She then scored her dream job at an outdoor science school instructing 5th and 6th graders in the San Bernardino Mountains of Southern California. Although the change of scenery was incredible, Kaci is glad to return home to the grey skies, soggy soil and deep green forests of the Pacific Northwest.




Samantha Hale
Born and raised in the beauty of New England, Samantha's passion for nature dawned at an early age. Many summers and winters spent along the coastline or in the mountains led to a deep love for biology. Samantha earned a B.Sc. in Marine Biology at the University of Massachusetts, Dartmouth and subsequently studied marine mammals in Australia and New Zealand. This work led her to recognize another passion: sharing the natural world with others. Knowing that the typical 9-5 job wasn't for her, Samantha began researching non-traditional styles of teaching. After discovering North Cascades Institute, she realized her dreams of an outdoors teaching career weren't outlandish at all. In her spare time, Samantha can be found by the ocean or hiking and biking in the woods. Her pack always holds a good book, her trusty camera and some chocolate.




Elissa Kobrin
Elissa graduated from the University of Oregon in June of 2013 with a BA in Planning, Public Policy and Management and a minor in Non-profit Administration. Her academic focus areas included active transportation, bicycle to public transit connectivity and environmental management. She was a participant in the UO's groundbreaking Sustainable City Year Program. She was a selected to be one of eight members of the Canopy Connections Team within the Environmental Leadership Program at UO wherein she designed and facilitated place-based environmental education curricula for middle school students at HJ Andrews Experimental Forest. Elissa has spent the last two summers as an interpretive park ranger with the Oregon Parks and Recreation Department. Her work experience has also included directorship of summer camp programs for the YMCA, Camp Fire USA and the City of Eugene Recreation Services Department. Elissa has served on the board of the American Camp Association (ACA) and was a presenter at the ACA National Conference in 2005. She loves the outdoors and is deeply passionate about sharing the value of the natural world with people of all ages and backgrounds. Elissa is a Ford Family Foundation Scholar and a Jeannette Rankin Women's Scholarship recipient.




Katie Komorowski
Born and raised on the shores of Lake Tahoe, Nevada, Katie has always had a passion for the great outdoors. Katie attended Oregon State University for her undergraduate studies where she majored in Liberal Studies with a concentration in Women's Studies. After graduation, Katie spent a year teaching and mentoring at-risk youth on a ranch in Colorado. Hiking, teaching, and horseback riding with students in the Rocky Mountains led Katie to pursuing experiential education for graduate studies. In her free time, Katie enjoys experimenting in the kitchen, being outside in any capacity and spending time with her dog Maximus the Beast.




Katherine Renz
Raised in a small beach town just south of California's mystical Big Sur coast, Katie developed a strong environmental ethic from early on. Such bioregional leanings were later articulated among the redwoods at University of California, Santa Cruz and the poppy-laden hills of the Bay Area. She's spent the last eight years in San Francisco immersed in everything from environmental journalism and music writing to gardening on notorious Alcatraz Island, teaching kids about the sex lives of plants and studying ecopsychology. Katie is compelled by a vision of helping people get connected with the natural world in hopes they ultimately make better decisions about how to treat themselves, each other and the planet. Beyond this, she dreams of one day having her very own Airstream in the California desert where she can sew, make herbal remedies, play electric guitar to lizards and tinker with her bicycle.

Sarah Stephens
Sarah was raised in Poulsbo, Washington and spent summers outside playing and exploring the greenery of the Pacific Northwest with friends and at camp. Sarah's love of exploring led her to live in France for a year in college. Because of her passion for working with others, she's been a camp counselor abroad and stateside for the past three summers. Helping people connect with their community and their environment through her work at camp and with local non-profits convinced her that running a non-profit whose goal is to connect people with their environment and each other is what she needs to be doing. She looks forward to connecting with the stunning wilderness of the North Cascades and developing her knowledge and skills.
Graduate Class of 2016



Liz Blackman
Born and raised in Dallas, Texas, Liz is a Southern girl at heart. After graduating from Hendrix College in Arkansas in 2008 with a degree in Religious Studies, she now calls the Ouachita Mountains of Arkansas, home. Liz heard the song of her nature calling her first summer at Girl Scout Camp and she came alive under the Magnolia, White Oak, Loblolly Pine and Bald Cypress trees of the South. She spent every free moment in high school and college working to share her nature awe with others, teaching sailing and kayaking on the weekends to raise extra money to canoe Boundary Waters in Canada and backpack in Spain. Whether as a Montessori educator, tennis instructor, Girl Scout Program Director or corporate trainer, Liz has spent much of the last 10 years teaching. She hopes to merge her passion for teaching, small business development and the natural world and one day open a nature-based early childhood program or environmental education consulting company. Before arriving at the ELC, you could find Liz covered in mud crystal digging in the Ouachitas, bird watching covered in mud and listening to records on her farmhouse porch, or covered in mud and surrounded by children, bugs and boats on the shores of Lake Texoma. She looks forward to getting her hands dirty changing the world and cultivating a more sustainable future with her fellow students in the M.Ed. program with her dog Ransom by her side.

Chelsea Ernst

Chelsea grew up on a barrier island off of the Georgia coast, climbing Live Oak trees and playing in marsh grass. After living in Memphis, Tennessee briefly in high school, she moved to the southern Appalachian Mountains and attended the University of North Carolina at Asheville (UNCA) and studied Environmental Sciences, focusing on Ecology and Environmental Biology. She spent her free time in Asheville camping, backpacking, getting out and listening to live music, cooking delicious meals, cycling, and going on hikes in exploration of Western North Carolina's biodiverse ecosystem. Through her studies at UNCA and an internship at Asheville GreenWorks—teaching the community about invasive plant species and removal methods—she found a passion for sharing knowledge about the planet's ecosystems. Chelsea believes that educating others about the environment is the first step in saving the world, and is excited to find new ways to share that knowledge and passion.




Rachel Gugich
Rachel discovered her passion for the outdoors exploring in the woods along with her twin sister and many pets growing up. She feels very lucky to have grown up in Washington and  to call this great state home. Rachel attended the University of Washington where she earned her B.A in Comparative History of Ideas with a minor in History. Upon graduation she completed an Americorps term of service with the Montana Conservation Corps. Rachel has a background in environmental education, outdoor recreation and place-based learning, This includes programs in Washington ( YMCA Camp Orkila and Camp Dudley, Catholic Youth Organization's Camp Hamilton and Boy Scouts, Camp Pigott); as well as working with organizations in Minnesota, Idaho, Montana and Colorado. While in Wyoming, Rachel worked as a field education instructor for the Teton Science Schools. Recently, Rockaway Beach, Oregon has been her home as a forest field instructor with the Northwest Outdoor Science School. Rachel is passionate about experiencing the great outdoors and seeking out new waterfalls big and small to photograph and enjoy. She is excited for this graduate program and all it has to offer.

Petra LeBaron-Botts
Although Petra was born in Portland, OR, she cannot in good faith call herself a native Pacific Northwesterner. She spent her childhood in the wildly different climates of Turkey, the United Arab Emirates, Bahrain, Pennsylvania, and Washington, DC before departing for the midwest where she earned her BA in Political Science and Middle Eastern Studies from Indiana University. After a short stint of employment with the federal government, Petra ran at top speeds to the west coast where she discovered her passion for mountaineering amidst the splendor of the Cascade Range. Through a series of recommendations, dares, and last-minute applications, Petra was hired by the National Outdoor Leadership School in 2011, which has allowed her to explore the wilderness of Montana, Idaho, and Alaska. She also had the good fortune to stumble upon the field of wilderness therapy, and spent two wonderful years hiking her students all over Colorado and Utah, teaching primitive fire-making, and carving a *lot* of wooden spoons. She decided to return to school to pursue a degree in the field that has brought her the most fulfillment, awe, and days wearing a fanny pack - environmental and outdoor education. She is thrilled to return to the mountains that bred her love of climbing and can't wait to make a career of sleeping on the ground. In her free time, Petra loves board games, planning her homestead, wildcrafting, yoga, and hiking with her husband John and her dog, Lunchbox.




Lauren Ridder

Lauren grew up creekin' and camping in the hills of Tennessee, and expanded on her love of the outdoors while studying biology at the University of Tampa.  Science and education have always captured Lauren's interest, but it was not until her junior year of college that she discovered she could combine the two disciplines into one incredible career path in the environmental education field.  Subsequent work with the National Park Service in Colorado provided invaluable classroom experience and ultimately inspired Lauren to continue her education.  Lauren cannot wait to lace up her hiking boots once again and explore her new home in the Cascades.




Mike Rosekranz

Mike grew up in Wisconsin and spent his childhood canoeing and fishing the Northwood's Rivers and exploring the woods and prairies. He loves everything about the outdoors and finds spending time in the outdoors a mental and spiritual necessity in his life. He has been involved in outdoor education for the past four years and takes great pride in what he does. He has worked as an outdoor educator in California and Washington, as well as a backpacking guide in Yellowstone National Park. His favorite place in the world is Yosemite National Park and it was Yosemite that inspired him to move out west after college and follow in the footsteps of his hero, John Muir, who went from Wisconsin to California as well. His greatest passions in life are backpacking, national parks, and wolf conservation. He had his eye on this program for two years and after researching just about every environmental education grad program in the country he found this program to far exceed any other. He is excited for this program and hopes that it will give him the skills and networking opportunities to land a job working with the National Park Service or a wildlife conservation organization.




Kelly Sleight

Kelly is from a small town in Maine called Carrabassett Valley. She loves all things Maine, especially snow and moose, and considers herself very lucky to call such a beautiful state home. She also has a bit of a travel bug though, and has found many other places to call home as well. Her favorite places include: El Salvador, where she spent three years serving in the Peace Corps; Spain, where she spent a year teaching; and Massachusetts, where she has taught outdoor education and worked as a Program Coordinator for the Girl Scouts. She carries little pieces of all the wonderful places she has been and people she has met and holds them very close to her heart. She is always looking for new places to go and wonderful people to go with her. She enjoys bringing people together with stories, culture, food, and adventure planning. She is very excited to embark on this new adventure of learning and teaching in the M.Ed. program at NCI. She has been a teacher longer than she realizes and is excited to fully embrace this identity and inspire many young children through environmental and leadership development. She cannot wait to be an advocate for environmental education, a better educator, and North Cascades wanderer.




Kevin Sutton
Kevin hails from Portland, OR and grew up in a family of outdoor enthusiasts who cycled, hiked, camped, and fished together. He discovered his passion for adventure and experiential education during a trip to Costa Rica and later pursued that, graduating from college with a degree in Tourism and Outdoor Leadership. Over the years he has worked as a climbing wall instructor, a backcountry ranger for the National Park Service, and an interpretive ranger with Oregon State Parks. When he applied to NCI, he described himself as: "a tough looking dude, standing in wildflowers, wearing a salmon colored shirt." He has matured a bit since that photo was taken but he will always enjoy the juxtaposition.  Maybe that says something about his personality. Things he likes: bicycling, rock climbing, chocolate (Hershey's, Nestle, Reese's), board games, and such. Sometime he's photogenic..

Gavin Willis
The youngest member of the cohort family, as well as the most local, Gavin brings with him a love of the outdoors fostered at an early age by free explorations of the local woods and streams with his childhood friends in Pennsylvania. Since then he has continued to pursue his passion of biology, specifically ecosystems. A move to the Pacific Northwest in middle school, combined with an elementary school science unit on whales, pushed his interests toward marine biology, and he graduated in 2013 from Western Washington University, majoring in marine biology. Along the way he had a chance to study abroad in Mexico (which simultaneously gave him the travel bug as well as gave him a research paper to write - he claims it's still in progress) but found, as a teacher's assistant in the Biology 101 classroom, that his true passion was teaching. He hopes that this program will be an incredible adventure and at the same time give him the skill set needed to design a place-based learning high-school curriculum that will challenge and inspire all students to succeed, regardless of their abilities or learning level.