Youth Programs and Scholarships
Through the generous support of donors like you, we are able to provide transformative educational experiences in nature for all. Thank you for inspiring and empowering environmental stewardship by supporting scholarships today!
Want to apply for Scholarships? Find out more under the program area you're interested in: Adult and Family Programs; Youth Leadership Adventures; Graduate M.Ed. Program 
---
Blending leadership training, hands-on stewardship, science education and outdoor skills. Students aged 14-18 spend eight days canoeing, backpacking and working on service projects in the North Cascades backcountry. Afterwards, students are mentored and encouraged to attend year-round engagement opportunities.
"I am so thankful that I achieved my goals of hiking and camping for the first time in my life. I was the first person in my family to go hiking and camping in the woods"
These students come from diverse backgrounds. Some are first generation immigrants; some have grown up in rural gateway communities; many could not do this program without a scholarship. A gift of $1,200 can provide a named scholarship for a Youth Leadership Adventures Student, while a gift of $2,500 supports a summer intern. Over 70 students participate over the summer, and more than 85% need scholarships to attend. Give a Youth Leadership Adventures Scholarship.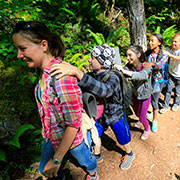 MOUNTAIN SCHOOL 
North Cascades Institute's nationally recognized residential education program offered at the Environmental Learning Center in cooperation with North Cascades National Park. Students spend three days with their classmates, teachers and parent chaperones exploring the North Cascades ecosystem. Hands-on experiences in reading, writing, science, math, social studies, art and physical fitness connect students to the natural and cultural history of the mountains.
"Deep in the forested embrace of the upper Skagit River Valley, you can find the next two generations of Americans getting to know a national park. I heard hooting like owls and howling like wolves, coming from a circle of fifth graders and their wilderness instructors."
Tuition is subsidized on a sliding scale based on percentage of students enrolled in Free and Reduced School Lunch program. Over 2,400 students participate each year with 95% of schools receiving financial aid. Give a gift to support Mountain School.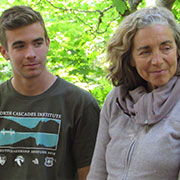 Endowed Scholarship Funds
Ensure that your scholarship gift lives in perpetuity. An endowment fund creates a legacy that speaks to an individual's life, values, and commitments while making a difference in the lives of these students. A minimum gift of $25,000 (which may be pledged over 2-3 years) will establish an endowed scholarship. An endowed fund can be created through a bequest, charitable remainder trust, existing life insurance policy, or by endowing a fund today. We will work closely with you to formalize an endowment agreement that reflects your giving intentions, and honors your intent in perpetuity. Each year scholarships will be awarded from the earnings on the fund based on board approved spending policies (typically a 4% distribution is calculated). Contact us about starting an endowment.
For more information contact us: give@ncascades.org or (360) 854-2599 
---
Frequently Asked Questions
Can I support a program directly rather than give to scholarships?
Yes. You can contribute directly to any Institute program. We gratefully accept cash, stock and in-kind gifts. If you would like to make a gift of stock or in-kind equipment, vehicle, etc., please contact us.
If I donate to a Named Annual Scholarship, how is my money spent?
Every dollar you contribute to a Mountain School or Youth Leadership Adventures Scholarship will directly support a school or student participating in the program. The Institute has a strong base of earned income that covers operational expenses. This enables us to direct all of your contribution to where it's needed most­ – directly to students and schools.
What is the timeline for scholarship awards?
Students in Youth Leadership Adventures are invited to apply for scholarship funds when they apply for the program each spring. Schools participating in Mountain School may apply for scholarships when they register throughout the year. Donors are notified of scholarship awards after selections have been made.
Will I have the opportunity to meet the student or school who receives money from my scholarship?
Yes. We make every effort to facilitate opportunities for interested donors to connect with the student or class they are supporting, whether at the Learning Center for Mountain School or on Ross Lake or Baker Lake for Youth Leadership Adventures. We will also share any thank you notes received from the student or class benefiting from your support. 
Can I create a Named Annual Scholarship and remain anonymous?
Yes, you are free to name a scholarship whatever you wish. It can be named for your business, a favorite place, or to honor or memorialize a loved one. The possibilities are endless.
Can I place any restrictions on my scholarship?
Yes, you can restrict your scholarship to support either Mountain School or Youth Leadership Adventures if you choose. 
Do I have any say in who gets the scholarship?
IRS regulations prevent donors from being directly involved in the selection of the student or school that receives their scholarship money. If you wish to support a particular student or school, we will help facilitate your gift; however, it may not qualify as a tax-deductible contribution.
If I create an endowed scholarship, how is my money invested?
The Finance Committee of the Institute's Board of Directors oversees all investment activities, which are guided by the Board's investment policies. BNY Mellon provides management of our investments. Please contact us if you would like to see a copy of our investment policies or discuss this in more detail.
How much of the endowment is spent for scholarships each year?
Your endowment gift will be invested so that the Institute can annually distribute scholarships from the earnings on the fund based on board approved spending policies (typically 4% of the average market value of the fund over the trailing 36 months). These funds are spent in the following year. This process ensures that the endowment fund corpus will live in perpetuity, given yearly fluctuations in market activity.