Base Camp Learning and Lodging
Event Details
Where

North Cascades Environmental Learning Center

Instructor

Institute staff

Quadruple Accommodations

$75.00

Quadruple (Shoulder Season)

$70.00

Triple Accommodations

$90.00

Triple (Shoulder Season)

$80.00

Double Accommodations

$115.00

Double (Shoulder Season)

$100.00

Single Accommodations

$160.00

Single (Shoulder Season)

$140.00

Hostel Accommodations

$65.00

Tuition Includes

Guided outdoor activities in North Cascades National Park, lodging and three meals
Overnight learning adventures and accommodations in the heart of north cascades national park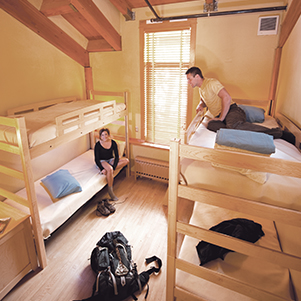 Flexible, affordable, enriching and fun, Base Camp offers you the opportunity to explore and learn about "the American Alps" while enjoying the comforts of our award-winning campus in the heart of North Cascades National Park. It's a unique opportunity to visit the Diablo Lake neighborhood for the first time, stop over as you travel across the Cascades or conclude your national park camping, hiking, biking or climbing adventure.
Each night of Base Camp includes:
An inspiring outdoor learning adventures offering hands-on exploration of the natural and cultural history of North Cascades National Park
Accommodations in our comfortable lodges
Three delicious meals made with locally-sourced, organic ingredients

Base Camp Pricing
Base Camp pricing is determined by how your family or friends group fill a lodge room. All lodge rooms contain 2 bunk sets (4 twin beds)
Pricing: Regular season (May-Oct) / Shoulder Season (Nov-Apr)
Private (single accommodations) - $160/$140
Couple (double accommodations) - $115/$100 each
3 People (triple accommodations) - $90/$80 each
4 People (quadruple accommodations) - $75/$70 each
Hostel* - $65 each
* hostel pricing is the cost of sharing a room with up to three randomly-assigned participants.  We do not guarantee a room with your requested roommate under this option, and you may be lodged in a mixed-gender room. Please do not select this if you have participants under 18 in your group or are uncomfortable in a mixed-gender room. The number of occupants per room will be determined on the total number of hostel guests each night.
We encourage people to bring their own bedding and towels but have linens for an additional rental fee of $10 per person for the duration of your stay. Children under 3 are free.