M.Ed. Graduate Program
M.Ed. Graduate
Program
Earn a Master of Education and Certificates in Nonprofit Leadership Administration and Northwest Natural History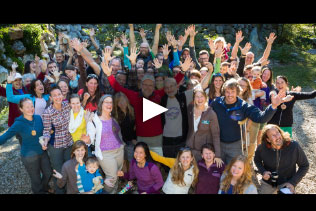 Establish your career in environmental education by earning a Master of Education while working with the Northwest's best educators, naturalists and conservation leaders! North Cascades Institute offers a unique professional residency program designed to prepare students in all aspects of environmental education while living among the towering peaks of the North Cascades region in Washington State.
Unlike many other graduate residency experiences, our professional residency is fully integrated into a degree program at Huxley College of the Environment at Western Washington University.
"We're looking for people with a passion for field-based environmental education who want to influence change by building healthy, creative organizations. That means an equal interest in field teaching techniques and the behind-the-scenes work that makes programs happen and organizations thrive." -Saul Weisberg, Executive Director
A Master of Education in Environmental Education is earned upon completion of the the seven-quarter program, along with Certificates in Nonprofit Leadership Administration and Northwest Natural History awarded by North Cascades Institute. Course work explores environmental education while placing an emphasis on field science, cultural studies, teaching and nonprofit administration.
For more information on how to apply, visit www.ncascades.org/study/admissions or send an email to ncigrad@ncascades.org to request an informational packet or schedule a campus tour and program orientation.